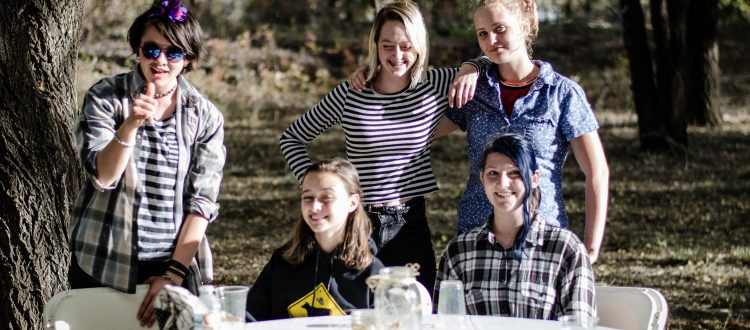 Our Second Annual New Mexico Matanza Fiesta at Rio Fernando Park!
On Saturday evening October 6th, 120 of our closest friends joined us at Rio Fernando Park in Taos to celebrate the completion of our year-long master planning process for the park. And it was quite a party!
A "matanza" is an old tradition here in northern New Mexico. Typically taking place in the fall, matanza is an old Spanish word that literally means "slaughtering the pig".
"Matar" is the Spanish word for "to kill". The word matanza refers to the whole process of killing, preparing, cooking and eating the pig. For our traditional New Mexico matanza we started a week before the event…cause this is a heck of a lot of work! And for the second year in a row the land trust staff, board and volunteers went through the whole process. We also had great help from our friends from Taos Pueblo in getting the pig ready. We cooked the pig (and a goat) right here at the park in a pit we had dug and prepared, burning wood all day to build up the coals. Once the pig and goat are in the ground the cooking takes about 24 hours.
As anyone who has been following our podcast or social media accounts (you're not following? come on! Facebook, Twitter, Instagram) knows, Rio Fernando Park is the newest public green space in Taos. After an intensive, year-long community-centered planning process, the we turned loose with the final master plan for the 20-acre park located in the center of our northern New Mexico town of 6,000.
"There was no way we could plan a community park without Taoseños being at the core of the process," says Kristina Ortez, our Executive Director. "Taos is a diverse, creative town, and we wanted to pull on those strengths to make this park something that will benefit all of us and demonstrate the resiliency and hope for this community."
A bit of background it case you weren't paying attention…..In late 2015 we, with help from the LOR Foundation, purchased the old Romo farm along the Rio Fernando in the center of Taos. In October 2017, after moving our offices into the old farmhouse we kicked of a year-long public outreach effort to gain input for the development of a comprehensive master plan for the long-vacant farm.
The Taos Land Trust turns 30 years old next year. We protect thousands of acres of wildlife rich landscapes and agricultural land across northern New Mexico. We saw the protection of the old Romo land as key to our mission.
"This landscape is unique. There is nothing like it," she says. "Right here in the center of Taos we have an acequia, a stretch of river, wetland and a wide-open area for unstructured play, agricultural demonstration and community events."
Located one-mile from the center of downtown, the property contains 7-acres of wetlands that hug the Rio Fernando de Taos. The bird-filled marsh connects to a broader wetland, spilling into the adjacent Fred Baca park and downstream to the Rio Pueblo that feeds the Rio Grande. The remainder of the property has approximately 13 acres of urban forest and land once used for agriculture and ranching.
"It is going to take us a number of years now to build this out. But now we have a solid plan to work from. The park is an evolving space that will eventually serve our whole community," says our awesome co-director Juniper Manley. And that is true. We have a lot of work ahead of us.
Working with New Mexico experts, the Land Trust plan incorporates wetland restoration, public park space, educational resources and agricultural revitalization.
"Community input and support is central to the rehabilitation and revitalization of this property, which will provide a unique intersection of wild habitat, recreational space, and traditional agricultural heritage," says Amy Bell of Groundwork Studio, the team leader of our Rio Fernando Park planning efforts.
"We see the Rio Fernando Park as a green sanctuary in the middle of Taos," says our boss Kristina Ortez. "This is a place where you can walk with a friend, bird watch by the Rio Fernando, have a picnic, experience demonstrations of traditional acequia irrigation, as well as old and new water conservation techniques, and celebrate values that seek to conserving the precious natural resources of our valley."
The Master Planning and initial restoration work for the Rio Fernando Park has been made possible by major support from the National Recreation and Parks Association, LOR Foundation, Taos Ski Valley Foundation, and New Mexico Youth Conservation Corps.
We've got a long way to go to make this park what we vision it to be. So it was a good thing we took some time out for a little fun at our New Mexico matanza. Thank you everyone who supported us through this process!