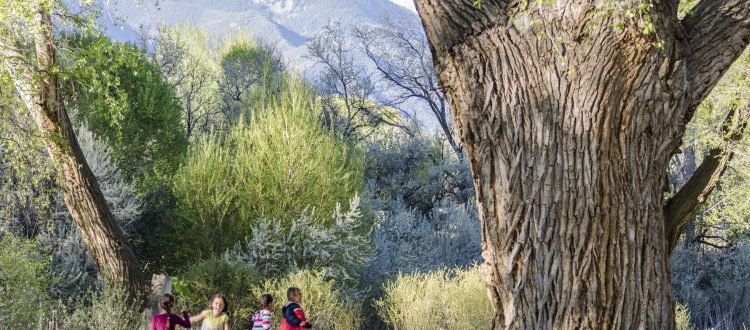 Earth Day 2022 Celebrations at Rio Fernando Park
Join Taos Land Trust in celebrating spring with our Earth Week Celebrations from April 16-24, 2022! We invite everyone to visit Rio Fernando Park and wake up the earth with us. We will have many events happening this week but you are welcome to walk around the park anytime and see what species are awakening.
Rio Fernando de Taos Cleanup – Saturday April 16th, 2022 @ 9AM-12PM
Help your fellow community members and local leaders to help restore our river! This workshop is led by the Rio Fernando de Taos Revitalization Collaborative which is a collective of Taos organizations working to restore the Rio Fernando. Meet at Taos Land Trust or Taos County Courthouse to help clean trash and debris out of the Rio Fernando. If you join at Taos Land Trust, we also have several volunteer projects to complete around Rio Fernando Park. Lunch will be provided after the cleanup. Register here.
Daily Park Tours – Monday April 18th through Thursday April 21st, 2022 @ 12PM
We will be offering guided walking tours of Rio Fernando Park on Monday April 18th, Tuesday the 19th, Wednesday the 20th, and Thursday the 21st at 12PM each day. Register here.
Healthy Soils Workshop – Monday April 18th, 2022 @ 4-7PM
Taos Land Trust and the Vigil y Romo Acequia Association will hold a free healthy soils workshop to include basic soil health assessment, developing a cover crop seed mixture to address resource concerns (drought, soil health, weed competition, etc.), and a demonstration of our no-till seeder. This workshop will provide low-cost information for participants to utilize at home. We will have a free cover crop mix available for participants. Register here.
Food Forest Volunteer Work Day – Tuesday April 19th, 2022 @ 10AM-3:30PM
Come work with us on our Food Forest at Rio Fernando Park! Led by Mike Musialowski, the Food Forest Movement of Taos, and Locology, this work day will be interactive and educational. Help us plant trees and shrubs, mulch, and build swales and paths while learning about permaculture. Register here.
Young Professionals of Taos Happy Hour and Games – Wednesday April 20th, 2022 @ 5-7PM
Young Professionals of Taos will have a casual happy hour and yard games at Rio Fernando Park during Earth Week. If you are under 45 and live in the Taos region, bring your favorite drink and any yard games you have. Leashed dogs are also welcome! Meet at the Outdoor Learning Center at Rio Fernando Park – the shade structure in the center of the park. Parking is available in Taos Land Trust's driveway off of La Posta Rd. Registration not required. Email any questions to youngprofessionalsoftaos@gmail.com.
Family Fun Day – Saturday April 23rd, 2022 @ 10AM-3PM
Join Taos Land Trust in waking up the earth at our Family Fun Day! There will be food trucks, live music, activities for kids and adults, tabling by partnering organizations, and more. Please park at Fred Baca Park and enter our park over the bridge. If you would like to volunteer for this event, please register
here
Community Garden Day with Vista Grande – Sunday April 24th, 2022 @ 9AM-12PM
Join Vista Grande High School for a morning of gentle garden tasks in our greenhouse at Rio Fernando Park! Lunch will be provided. Please register
here
to attend. Limited to 10 volunteers:
Download our flyer of events: TLT Earth Week 2022 Events
We hope to see you there!
Taos Land Trust
(Photo Credit: Jim O'Donnell)