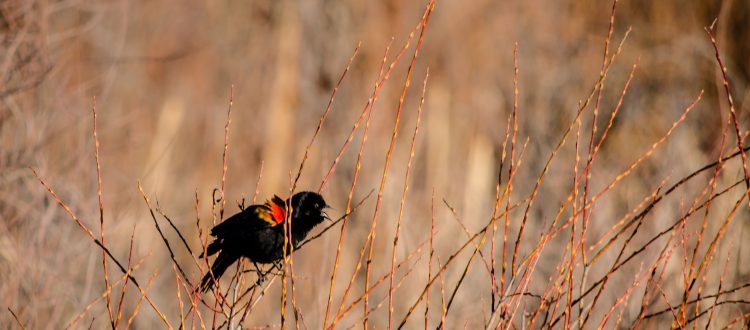 Rio Fernando Wetlands Fall Migration Bird Walk-September 7, 2018
We had a great group of birders join us last Friday for coffee, donuts and those really tasty little blueberry muffin thingies…oh, ya and all the birds!
This was our Fall Migration Bird Walk in the wetlands of Fred Baca Park and Rio Fernando Park. The Cornell Lab of Ornithology's online EBird program lists 178 species in our local wetland. On the September 7, 2018 we counted 43 species.
Species Count
Mallard 2
Eurasian Collared-Dove 1
Rufous Hummingbird 1
hummingbird sp. 4
Virginia Rail 1
Green Heron 2
Turkey Vulture 1
Northern Harrier 1
Cooper's Hawk 1
Red-tailed Hawk 2
Williamson's Sapsucker 1
Hairy Woodpecker 1
Northern Flicker (Red-shafted) 3
Western Wood-Pewee 2
Hammond's Flycatcher 1
Black Phoebe 2
Plumbeous Vireo 1
Black-billed Magpie 3
Common Raven 4
Violet-green Swallow 2
Barn Swallow 2
Black-capped Chickadee 5
House Wren 2
Ruby-crowned Kinglet 1
American Robin 30
Gray Catbird 2
European Starling 3
Cedar Waxwing 1
Evening Grosbeak 9
Pine Siskin 2
Lesser Goldfinch 4
Chipping Sparrow 2
White-crowned Sparrow 1
Song Sparrow 4
Spotted Towhee 3
Red-winged Blackbird 20
Orange-crowned Warbler 2
MacGillivray's Warbler 5
Common Yellowthroat 2
Yellow Warbler 1
Yellow-rumped Warbler (Audubon's) 4
Wilson's Warbler 10
Western Tanager 2
Black-headed Grosbeak 2
Rio Fernando Wetlands has just passed Orilla Verde in terms of bird species as the number one "birdiest" location in the entire of Taos County. More and more birders are spending time here along the wetland, discovering just how valuable the Rio Fernando is to local wildlife – and hopefully adding an urgency to protect more of this watershed.
We will have more bird walks in the coming months including the Christmas Bird Count and the Spring Migration Walk. Keep an eye out for more information on these events in our newsletter, blog, Facebook and Twitter and be sure to sign up to our blog notification list just below