In the summer of 2020, the Taos Land Trust, in collaboration with community partners, built and distributed 80+ planting-ready 4×8 garden boxes – complete with soil, irrigation equipment, hoop house coverings, and seed – to families in our community. In 2021, we distributed 60 more of these boxes around the Taos area.
Downloadable Garden Box Brochure
For several years, we have been working to build food security in Taos through a number of efforts, from our Working Lands Resiliency Initiative, the Healthy Soils Initiative, the Equipment Rental Program, and the Young Farmers Program we run in cooperation with Vista Grande High School. The Community Garden Box program is one part of that larger effort. We offer these planter boxes free of charge to elders, families with children, and other interested community members.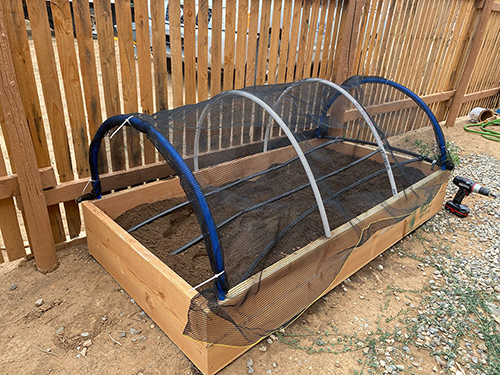 Special thanks to the LOR Foundation, Mockoviak, Taos Sky Valley Foundation, Taos Community Foundation and many generous community supporters for making this program possible.
Tips and Tricks for a Successful Garden Box!