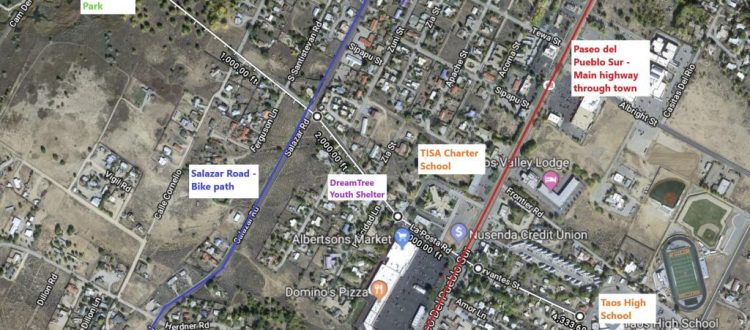 TAOS! We Need You! Safe Routes to Parks Walkability Audit – Sunday April 28, 12-1:30 pm
We told you back in February that we were fortunate enough to be chosen for a generous grant from the Safe Routes to Schools National Partnership to be part of the Safe Routes to Park Activating Communities. This is a technical assistance program that looks to create and improve safe and equitable access to local parks across the nation. Given that we are in the process of creating a new park for the Town of Taos and that we want our fellow Taoseños to have access to Rio Fernando Park (and adjacent Fred Baca Park) this program turned out to be a perfect fit.
Safe Routes to Parks Walkability Audit – Sunday April 28, 12-1:30 pm
Meet at Starbucks in Albertson's Grocery Store
The primary goal of this specific project is to create a safe walking route between Taos High School, Taos Integrated School of the Arts (TISA) and Rio Fernando and Fred Baca Parks. Improvements to this 10-block (.75 mi) route along La Posta Road would provide over 900 students safe walking access to these parks. Furthermore, it would connect dozens of small businesses, medical services, and several low-income residential neighborhoods. It also connects the main highway and the primary bike route which both cross La Posta. Much of the current route needs simple improvements, although 1,000 feet needs a new sidewalk, and 1,000 feet will be a path through Rio Fernando Park to Fred Baca Park.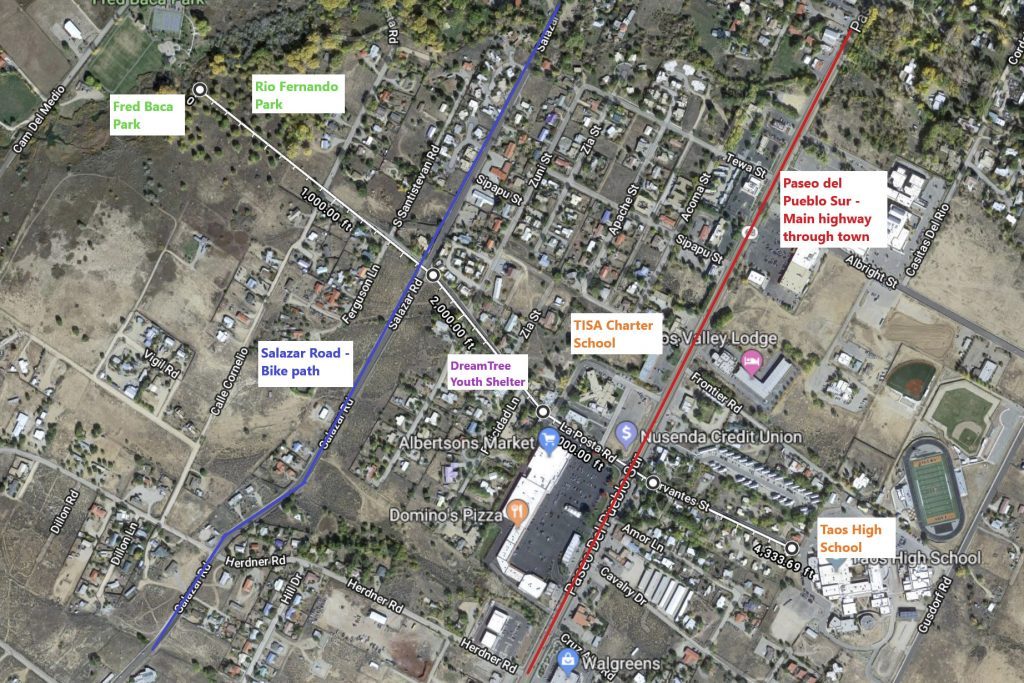 Walk Audit?
A walk audit can be as simple as taking a walk during which you assess how supportive the street is for walking. That's part of what we are going to do. We are also going to evaluate and document the street on a scale that helps to assess the current walkability, assessing how the route integrates with the park itself, and identifying how to make it better for people of all ages and abilities.
On the walk audit, we will be documenting:
The infrastructure. We will note strengths and weaknesses of the physical environment, such as the condition of the sidewalks, intersection crossings, signage, lighting, benches, and bus stops. In one section we don't even have a sidewalk making for a particularly unsafe and unpleasant walking area.
The behavior of people walking, bicycling, and driving. Observe how many people are walking or biking, whether they have strollers, heavy bags, or other items, how they are interacting with others on the street, and whether they are following traffic laws. We will ask people walking or biking for their opinions, especially if they live in the area and walk or bike frequently. And we will note of traffic flow, vehicle speed, and whether drivers are obeying traffic laws.
Factors that contribute to comfort while walking. Understanding what feels comfortable and uncomfortable to people walking can help guide improvements and actions. Do people feel too exposed to traffic? Does the area feel desolate and unwelcoming? Are there street trees providing shade and the cozy feeling of a ceiling?
Take pictures of notable features: "A picture is worth a thousand words."
Afterwards, once we arrive to Rio Fernando Park we will conduct a debrief right to gather everyone's impressions, talk about what you saw and possible solutions, and gather everyone's surveys. Then we will talk about next steps.
And then….join in the Land Exploration Festivities! Tacos, ice -cream, tree-planting, building pollinator houses and more!
Please contact Jim O'Donnell at jim@taoslandtrust.org if you plan to join us for the walkability audit.