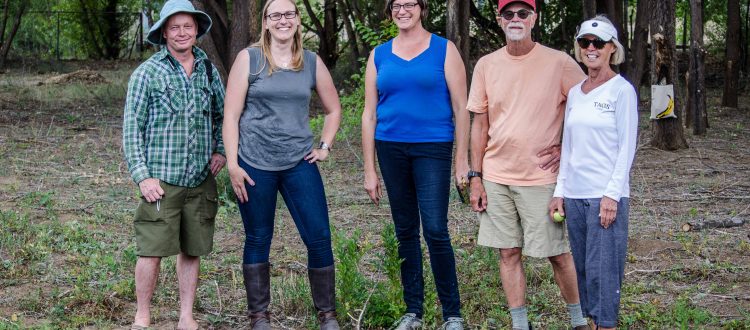 It's No Wonder Birds Like Building Nests – It's Fun! And We Got Some Business Done Too!
About 60 Taos community members turned out last Saturday afternoon (August 18) at Rio Fernando Park to review the final draft plan for the park, ask questions, add comments and suggestions, tour the park and build giant nests.
That's right, giant nests.
We are finishing up this master planning process for the 20-acre Rio Fernando Park in the center of Taos. In October 2016, the we kicked off a year-long public outreach effort to gain input from the Taos community on the development for a master plan for Rio Fernando Park. As you know, we already protect thousands of acres of agricultural, scenic open space, water and agricultural land across northern New Mexico through conservation easements, hosted numerous public events at the future public park and in various other locations around town. And now we are almost done. Events like last Saturday's allow us to get value input from our community…the people who will actually USE the park! And that includes our kids. We had a slew of kids working hard building giant landscape-scale nests! Even Spider-man dropped by (proof below).
We've got A LOT going on and would love it if you joined us for the following….
– This coming Thursday (August 23) from 9-10am join our Jim O'Donnell on KNCE True Taos Radio (93.5) for a discussion about birds! Jim will be joined by bird experts Steve Knox and Robert Tempelton.
 – On September 1st from 11 am to 1:00 pm we will have an invasive weeds removal volunteer action at Rio Fernando Park (410 La Posta in Taos). Lunch provided – and apples to pick from the trees!
– On September 7th starting at 7am, Meg Peterson will lead a birding expedition at Rio Fernando Park. We will meet at the boardwalk in Fred Baca Park and spend the next few hours looking at all the great birds in the area! Please RSVP for this one, Call Michelle at 575.751.3138 or email info@taoslandtrust.org
Finally…save the date….October 6….keep an eye out for more info!
Finally, here are some captures of all the action from another really wonderful day last Saturday at Rio Fernando Park. Take a look!
Keep working, kids!