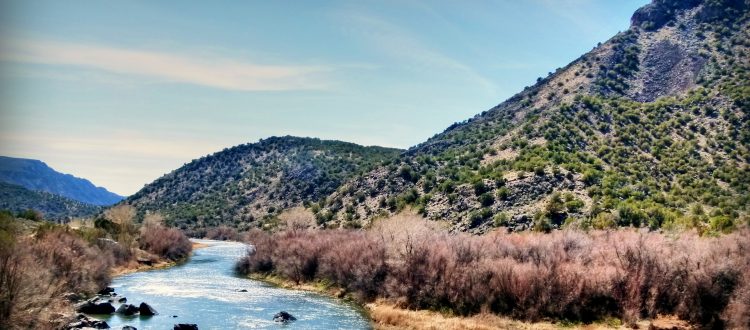 Thinking Like a Watershed
Taos communities pull together for bigger and better management of our life-giving landscapes
Aldo Leopold spent some time in Taos County, in the Tres Piedras area of Carson National Forest. He was the one who penned that iconic conservationist motto, "Think like a mountain." But some folks in Taos County and across New Mexico are giving people a new challenge — think like a watershed. Specifically, think like the Río Grande watershed and all the lands, rivers, streams, and acequias that exist together to make up one of the most important river ecosystems in the world.
The Rio Grande Water Fund is a massive, long-term project of the Nature Conservancy that's looking to restore the Rio Grande's surrounding forests and landscapes to a more natural, resilient state.
The project isn't some idyllic pipe dream with esoteric goals. It's about recognizing that a healthy forest means a healthy economy, and those both mean a healthy human community, too.
For much of the existence of land management under the United States government, forest fires were suppressed like a frontline enemy. Slowly, people have realized that fire isn't foreign, but actually native to the landscapes of North America.
But decade upon decade of preventing fire has reworked the forests into overgrown matchboxes ready for a blaze. Some of those fires get so big as to create their own weather systems. Never mind that small towns and villages may be threatened — whole regions are threatened by disastrous megafires.
Taoeños surely recall the 1996 Hondo fire that burned behind Lama. And as Ray Corral with the U.S. Forest Service tells the story, the fire that burned on the Western slopes of the Sangre de Cristo Mountains behind Taos Pueblo caused such destruction and contamination people from that community couldn't drink their water for five years. A little further south, the 2011 Las Conchas fire shut down water treatment facilities in Santa Fe and Albuquerque. Smoke inhalation can be a threat, too.
So the Rio Grande Water Fund is working on financing large, watershed-sized restoration projects along the Rio Grande, the source of water for more than half of the residents in the Land of Enchantment.
Ray was quick to point out that this watershed project in Taos County — which would ultimately thin and restore forests from Pot Creek on 518 up North to San Cristóbal — isn't a top-down sort of plan. Its province lies throughout the community. "This is the grassroots," he said.
The Taos Valley Watershed Coalition is made up of the Forest Service, Taos Pueblo, Taos County, a couple land grants and other such stakeholders with the foresight to invest in their community's life-giving environment.
"Its got great momentum," said Tammy Malone, District Ranger for the Camino Real portion of Carson National Forest, down around Peñasco. Besides, watersheds don't stop at those imaginary lines drawn on maps and strung with barbed wire. "There really aren't boundaries. Land is land."
And fire is fire. If there is dead, dry wood to burn, it will. Ray said fire managers at Taos Pueblo "see a need to reintroduce fire onto their lands. But we have to have more treatment on the other sides. We don't want a big fire to go either way."
The forest's fuel load is the only element of wildfire humans can control — weather is out of everyones hands and topography just is what it is.
Ray started to paint this scenario…
"Just picture yourself on the hill in the Sangres. You start seeing green fields, and these green fields are probably pasture lands. If they have the historical uses of the acequia system, then there might be alfalfa or beef on the pastures.
"Now picture the fire. What becomes of that field, of that rancher, of that consumer who buys the beef that grew up with the mountains water?
"You can start seeing the cascading effect. Those fields are somebodies livelihoods. The whole world relies on water. So as I see it, you break something like that in our community, and you're breaking the community."
Not only does Ray ponder the havoc such a fire would wreak on the community, but the the Rio Grand Water Fund also tries to imagine a birds-eye-view of the economy — an essential component to a healthy community.
The Nature Conservancy estimates 300-600 forest-restoration jobs, from surveyors to sawyers to firefighters, will be created each year. Healthier, more park-like forests ("What a ponderosa forest ought to look like," Tammy said) could improve tourism, too.
But more importantly, clean water is a sustainable community. Clean water is infrastructure. Clean water is stability in the face of catastrophe.
The Taos Valley Watershed Coalition is still looking to have its project financed through the Rio Grande Water Fund. Much is still in motion — identifying priority areas and securing investors and economic partners (all of Taos County, they told me, would never be able to use all the wood that'll come from the gargantuan forest thinning).
Once the planning is over, there are surveys to be done, particularly to identify archeological resources and wildlife like the Mexican Spotted Owl. Then, with scores of workers and a collaborative plan of action, the overgrown forests will begin their transformation. Slowly. But surely.
Even if the Rio Grande Water Fund doesn't pan out initially, Tammy said everyone in the coalition is already thinking big, already thinking how to collectively manage a forest that's as diverse and as complex as its human communities downstream. They're already thinking like a watershed.