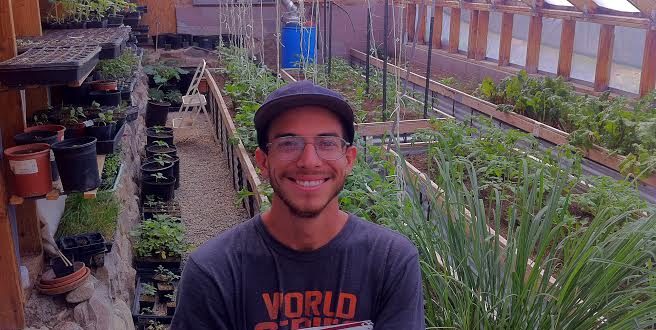 An Emerging Group of Young People
Want to be Farmers. Why? And How?
American farmers are growing older. Their land? It switches hands more and more with a mix of development and corporate prowess. But a growing number of millennials — those 20-somethings and 30-somethings just launching into a vastly changing world with new realities — are doing what they can to get into the fields. Here in Taos, we've got plenty of young folks anxious to work on the land. This is the first of a series that shares their stories.
Sam Gregory had just got back from making a vegetable run into town. Actually, it was to the Farmhouse Cafe in El Prado where he works weekends, but also grows veggies for their menu and weekly CSA. A gang of magpies squawked at him before flying off, leaving the ag waters of the Acequia del Madre del Llano, that sits just yards away, for the craggy red and black cliffs hanging above the Rio Hondo. In this bucolic valley sitting below the scorching Hondo Mesa, it's hard not to imagine away the day. But the temps were rising and, as always, there's work to be done.
Sam grabs the wire-bound notebook, all folded over on itself, to scratch out a list for the week ahead knowing full well that on this little farm, things change as quickly as the summer monsoons.
Sam is living and working at New Buffalo, a former hippie commune and a gathering place for wanderers, frequent old-times, and various agricultural projects. The 12+-acre parcel was placed under a Taos Land Trust conservation easement in1991 by Walter Klein, Terry Klein and Kristina Wilson who wished to preserve the property's natural elements and its ecological, agricultural and open space values for perpetuity.
Today, folks come in and out, but the farm's there — fields plowed, greenhouse built, and acequia waters aplenty (especially this year!). And having a turnkey farm is boon to actually learning how to coax veggies from the high-desert microclimate, especially now that Sam's running the show.
Sam was a one-time New Buffalo "WWOOFer" WWOOF, stands for World Wide Opportunities On Organic Farms, a global organization that links people –— mostly young people, many fresh out of college or still working on their degrees—who want to volunteer on organic farms with landowners who are looking for volunteer help in exchange for offering them room and board. He also spent a season up the road in San Cristóbal at Goji Berry Farm and Eco-Lodge, with a couple months here and there at different farms mostly scattered across the West.
"It's so intuitive this is what I need to be doing with myself right now," Sam told me in the greenhouse, walking around the well-ordered tomatoes and chard to check for aphids.
"All it takes to farm is effort, energy, time and love — heavy on the love."
"I don't have to be an expert because the seeds…well, they want to grow. I know this is pretty small-scale, but seeing what I'm able to do, what we're able to grow, I'm continually blown away."
Walking the fields of New Buffalo, Sam reaches down to finger the soil, test its dryness, in the two fields. There's a chicken pen, a sort of dilapidated mansion, really, and another field across some fences to the East he manages with a neighbor. It's small but immense.
Sam probably knows more about farming than most people there, but not as much as people who call themselves "farmers". Novice would be appropriate, because novices join an order not knowing what, exactly, is in store.
Sam's totally got an urban flair about him, with the flat brimmed hat with the short bill and the music running through his head, occasionally tapped out on the edge of the greenhouse while we talk. If your image of farming in Taos County is stuck on only the iconic parciantes, hippies or back-to-the-landers, then Sam doesn't make sense. But there are iPhones in the field, and agriculture doesn't stand outside modern times.
What intuition led him to toil in the high-desert sun in Middle-of-Nowhere, New Mexico, rather than take a cushy job — or even a typical low-paying but somewhat enjoyable job — in the city?
Back in college, he did a lot about philosophy, thinking and talking through the morals and ethics that drive our decisions.
Farming, he said, adds life to the equation. Outside of a Northwest college bubble, working the fields of New Buffalo is just one means of putting some praxis to philosophy.
"The greater social system is pretty fragile. And for me, it seems like all the social problems and injustices start with food. But farming is a way — just one way — to fight back against that. It's valuable for the community and it's sustenance for myself."
People use the expression "at the end of the day" in order to drive home something basic, some nugget of wisdom. But you can't just have your philosophy at the end of the day. You can't toil in the dirt, pull out acres of vine weed, clean ditches, negotiate prices, clean chickens, and harvest before market without really living itall day. So he does. Sam lives it. Sure, farming is hard work and far from the romantic notion office workers imagine it to be. But at the end of the day, "You got to have a fun, relaxed perspective about it," he told me.
For right now, the arrangement works, though the furrows and swales and terraces of New Buffalo will undoubtedly come to know someone else in the years ahead. Will Sam stay in the growing movement of young farmers—those kids out there willingly shucking so many consumer comforts and enthralling city energies? Maybe. But young farmers nationwide face a world where land is expensive and too many people carry debt — especially student debt. And as any wizened farmer can say, farming's isn't one of the money-making professions.
Help is out there. The Young Farmer Success Act of 2015 is trying to work its way through Congress, making farming a public service and eligible for debt forgiveness. And here in Taos, folks are trying to figure out how to keep family lands in the family — passing them on, even in the 21st century, to the next generation of this place. And in Sam's life, he's got help, too — some older farmers who've been growing high-desert crops for decades. You can't become a farmer in one fell swoop. Like the farmland of America, it's all patchwork and piecemeal. Something good is sure to come of it.