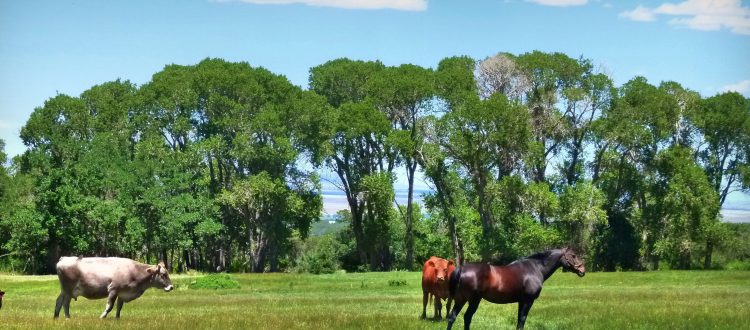 "Agritourism" effort aims to connect visitors to
working lands
A group of farmers and ranchers is working to connect people of all ages to Northern New Mexico lands by offering "agritourism" experiences.
In recent years, the New Mexico Tourism Department has marketed "ecotourism" opportunities, initially focusing on the Gila Wilderness and the Taos region. Generally, ecotourism aims to combine fun experiences with conservation work by bringing people into landscapes in need of advocacy. Ecotourists are educated about their environments while they vacation, and they are often involved in volunteer efforts or fundraising campaigns as a result of what they learn.
Similarly, agritourism seeks to offer an authentic experience to participants with varied interests. According to information from the organization, Taos Cultural Farm Visits is a non-profit organization composed of farms and ranches that offer unique experiences to visitors. By engaging in agritourism, the consortium helps to support local agriculture while connecting people to the land and culture of the Taos area.
Taos Cultural Farm Visits, which collects no money from its members but works to publicize agritourism opportunities and form partnerships with likeminded organizations, has created a number of concepts around the agritourism initiative. The concepts are developed by individual farms and ranches and play to the strengths and interests of each while offering a variety of options. Among the concepts are:
Cultural Farm Stays: Over the course of a week, visitors would stay with a local family, tour acequias and enjoy being immersed in the landscapes and traditional farms of Northern New Mexico.
Farm-to-Frame: This concept blends farming and art, with participants being presented with opportunities to see where their art materials come from. Weavers might visit a sheep ranch, while potters may dig their own clay and fire their work using traditional methods.
Children's Camp: Kids would spend a week learning about the origins of their food. They harvest vegetables, eggs and milk, and the week culminates in a bonfire feast.
Equine Tourism: Riders get to enjoy experiencing the Northern New Mexico landscape, particularly in surrounding National Forests, on horseback.
Farm Internships: Those who would like to experience "WWOOFing," or living and working on an organic farm through the World Wide Opportunities on Organic Farms movement, can assist local farmers and learn about the ways organic farms operate.
Photography Tours: Tourists who would like to return home with vivid images can participate in photography tours of the mountains, rivers, villages and other scenery around Taos.
Horse Boarding: Boarding stations near riding trails facilitate traditional hay fields, which visitors can experience firsthand.

Art Classes: Art classes are offered on a limited basis, and artists can find a number of opportunities to capture farm life in and around Taos.
Winery Tours: Visitors can explore the fields and vineyards of Northern New Mexico and enjoy tastes of local wines.

Traditional Northern New Mexico Cooking: Local delicacies are on display in this concept, which gives visitors opportunities to learn to cook traditional foods.
Neighborhood Sharing: Agritourists can spend a day on several nearby farms, harvesting food from one and enjoying a cooking demonstration in the kitchen of another.
Gallery/Studio: The group also works to encourage the sale of agriculturally related art from small home studios.
For more information about Taos Cultural Farm Visits, call (575) 758-0350 or email taosfarmvisits@newmexicoagritourism.org.