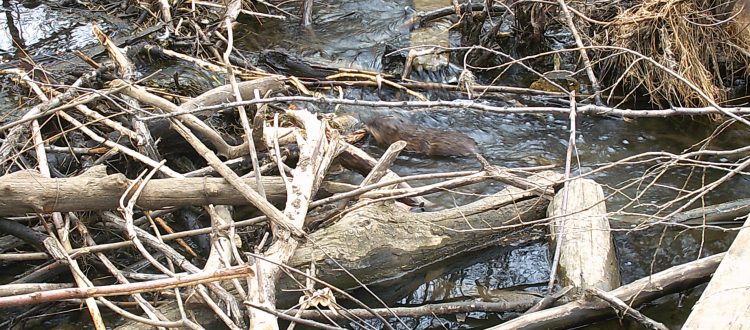 Wildlife Cameras in the Rio Fernando Park
Creating and protecting wildlife habitat is an important aspect of conservation. On the Rio Fernando Park property, we have many different animals that rely on the diverse habitat provided by the river, trees, and old farm land. To better protect these habitats, we need to know what animals are present in the Rio Fernando Park, and where they spend their time. That way, we can tailor the care we take and our management plans to protect the animals.
So, in February of this year, we decided to purchase wildlife surveillance cameras to document the animals on our property. Between Taos Land Trust Staff members, surveyors, workers, interns, youth, and other members of the community that spent time in the park, we had already spotted beavers, ducks, coyotes, a multitude of birds, and even an elk on the land. But we wanted to catch them on camera. We bought three digital trail cameras. The cameras have a night and a day setting, and are set off by a sudden change of ambient temperature caused by animal movement. The cameras capture both a photo and a five second video clip after being set off by movement, that way we can clearly identify the animal and observe its behavior.
The cameras are straight forward, but we still had some issues with them in the beginning. The first time we put the cameras out, we did not capture any wildlife footage. Instead, one of the cameras had been set off by branches moving, one had been facing at a bad angle, and the other one was just in a place where no animals passed through. These types of errors happened quite often in the beginning, and it took lots of trial and error to finally capture animals on camera. However, the results were extremely rewarding. The first animal we captured on camera was a little field mouse, scurrying across a beaver dam at night, probably looking for food or shelter. Since that first animal, we have captured footage of skunks, raccoons, rodents, birds, coyotes, ducks, and many more.
We even captured footage of two beavers swimming near Fred Baca Park in March 2018. Unfortunately, the beavers have not shown up on camera since then. But many people have spotted them on the property, and there is evidence of them felling trees, building dams, and even starting a lodge. The beavers are one of our priority animals to protect. They are essential to the health of the river ecosystem in the Rio Fernando Park. By building dams, beavers slow down the flow of water, which aids in the formation of a pond or a wetland. With such low levels of water in the Rio Fernando in recent years, it is essential that beavers can build their dams and reinforce the strength of the wetlands.
We captured our first footage of ducks in March 2018, and have watched our resident duck family grow since then. Throughout March, April, and May, the same male and female duck showed up periodically on the property near Fred Baca Park. By observing them through the captured footage, we could pick up on patters in their behavior. When the team of ducks suddenly disappeared from their usual spot, we were concerned. Until one of our employees said they spotted four ducklings swimming near Fred Baca Park in May. Then in June, the bunch showed up on camera again. It was the same male and female, with their four new ducklings.
When we first discovered coyotes on the property we were concerned for the other wildlife. Coyotes can be an extremely dangerous predator to small animals with poor shelter in their habitat. However, after observing the coyotes captured on camera, they appear to roam relatively harmlessly. Considering the activity levels in the park, it is unlikely that there is a coyote den on the property, but rather one on a nearby property. There is evidence of a larger predator (such as a coyote) on the property, as small animal remains have been found here and there. Through the images captured on the wildlife cameras, we have been able to learn more about the coyotes' behavior, and gauge whether they are a major threat to the other wildlife.
Between surveys, sighting events, and the wildlife cameras, we have also discovered a multitude of birds on this property. To our best ability, we could identify some of these birds captured on the wildlife cameras. Among these birds there were magpies, sparrows, a Red-winged black bird, a Yellow warbler, and a Spotted towhee. Although many of these birds are ordinary, it was interesting to be able to observe them in their natural habitat. We could see how these birds behaved with no humans around, and the areas they frequented most often. The wildlife cameras captured both the physical and behavioral beauty of these creatures.
The decision to begin monitoring wildlife in the Rio Fernando Park has expanded from the basic need to document the effects of conservation on their habitat, to a fascination with the animals themselves. The Rio Fernando Park is home to a myriad of animal species, each as important as the last. These animals rely on their homes staying intact and undisturbed for survival. By capturing these animals on wildlife cameras, we can craft our conservation strategy to protect wildlife habitat the best we can in the ever-growing Rio Fernando Park.