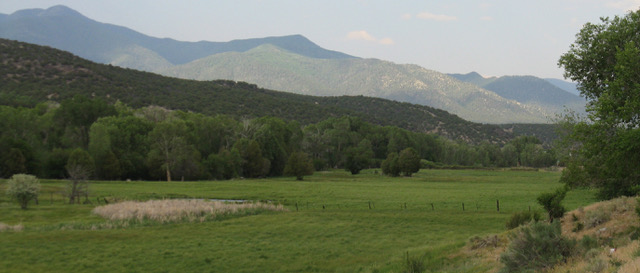 Volunteers Needed! Conservation Easement Monitoring August to October 2018
Do you want to help the Taos Land Trust by spending time outside on some astoundingly beautiful properties? Do you want to go places ordinarily not accessible to the public and meet some true conservation heroes? Then volunteer to become a conservation easement monitor and help us preserve some of the most important view sheds, agricultural areas, historic spaces, and wildlife habitats around.
Volunteers Needed!
Each year, the land trust is required to monitor each and every one of the many conservation easements we hold, in and around seven counties in northern New Mexico. The purpose of this monitoring is to ensure that all easement requirements are being upheld and that the land is preserved for future generations. The work is important and gets to the heart of Taos Land Trust's mission to empower people to protect the land and traditions they love through education, advocacy, and conservation. It is a wonderful way for you to connect to the land and the people who have dedicated themselves to preserving it. Monitors simply make an appointment to view the property, take a walk around the land, snap some pictures, and fill-out some simple paperwork. Whether you're new to Taos or have lived here all your life, monitoring easements is a great way to explore places you may never have been before, meet new people, and make a genuine impact on land preservation.
On Saturday, July 7th we will be holding a special training session for any and all volunteers who wish to become monitors. Please join us at 10:00 am at the TLT offices (410 La Posta Rd in Taos) and spend two hours at Rio Fernando Park learning how to monitor easements and fill-out the paperwork. Please be sure to wear sturdy, comfortable shoes and be prepared to be outdoors – sunscreen and hats are highly recommended!
Contact us at info@taoslandtrust.org or call 575.751.3138