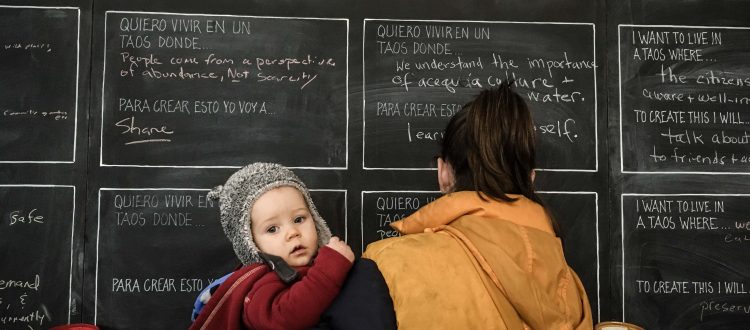 Rio Fernando Park Visioning Day!
On Sunday, February 25, 2018 we held a public forum in downtown Taos to get input on what the community wants to see at our Rio Fernando Park.
We have begun the process of revitalizing our 20-acre property (with 13 acres of historical agricultural land and 7 acres of wetland) next to Fred Baca Park. This project will restore a section of the Rio Fernando River, bring an acequia back to life, and restore the once-productive agricultural lands of this property. Once finished, the site will provide our community and its visitors with downtown access to the river and green space through a network of trails. The ongoing rehabilitation work will also be used for educational demonstrations of best practices for conservation of soil, water and habitat.
Since purchasing the property at the end of 2015 we have been assessing the condition of the land, learning what is out there and how the land works, bringing Taoseños to the property and preparing learning how to manage such a complex piece of property.
Along with our upcoming restoration work on the Rio Fernando itself and the priceless wetlands we are developing a management plan for what will eventually become a public park on the remaining fifteen-some acres. This isn't a straightforward simple process. We want our park to integrate with the Town of Taos – owned Fred Baca park right next door. We also want our park to integrate into the needs of the community be that with trails, connectivity, access, agriculture, art, sports and so on. Then we need to figure out how to manage a public park on private property. Not simple. Thankfully we have an excellent team working with us and an excellent community to rely on.
We really want to hear as much as possible from the community members about what they want to see in the new park. We've held several previous events and have always had a great turnout. This one was no different. And we certainly got a wide range of responses at our meeting Sunday. Forty to fifty community members showed up for the course of the three hours we were there. Here are some of the voices we heard:
Voices:
"Under economic development and education…at that nexus I wrote that it would be neat to do demonstration plots for different kinds of crops, maybe show some traditional methods of farming, some older crops that were once planted here than nobody does any more"

— Andy Jones, Town of Taos
"I wrote that I'd like to see a seed saving garden because Taos still has a lot of really important, rare, climate adapted seeds and it would be awesome to have more venues to grow them, learn about them and tell stories about them."

— Cody Hooks, Arroyo Hondo
"I'd like to see some basic education signs and placards around that tell about the history of Taos, the history of the area, pre-colonial history. An educational route."

— Andrew Heinrich, Arroyo Hondo
"I want it to stay the same. I kind of want it to expand so there is more room to roam around."

— Sky Prentice, Town of Taos
"I put down gardens and kids. They bring people together. The kids get to grow up learning where their food comes from. Gardens build community. Also medicinal gardens, spaces for workshops and an open park space where people can come and enjoy space and peace."

— Rasa Lila, Town of Taos
"I would like to see more links, more transportation links like trails and paths to link people to nature and businesses. The problem in Taos is that you have to drive everywhere 'cause there is nowhere to safely walk with your kids or to bike without fear of getting run over, you know? We live very close to Rio Fernando Park but here is no way that I would walk there with my kids. It is too dangerous along that road. Same with Fred Baca park. So I'd love to see some trails that could help us get there without being in danger."

— Cathy Theriot, Town of Taos
"I want to see a park where the public can easily feel like this is their space. I want to see a park with equitable access. Walking space, places for youth to hang out. I want to see a park with edible fruit trees where people can stop off for a snack. I want to see a park where our youth are involved. I know there has been a talk about a lot of agricultural activities. But let's make sure that is kid focused. I'd love it if there was an after school agricultural club where the kids can take those veggies home, maybe sell them at the market."

— Anonymous, Town of Taos
"One of my biggest concerns for the community is the high alcoholism and drug use. There aren't a lot of things to do with children so as a mama I am always looking for things to do and I've been thinking about these things for months. For me a park like this we could have places where we could have picnics on blankets under trees, trails integrating the parks for walking and biking, little obstacle course workout thing, gardening and acequia workshops. You could have a sensory part of the park that the schools and OTs could use for therapy for the kids."

— Riana England, Town of Taos
Coming up Next…
We will host another public visioning event April 29th and we will be doing multiple meetings and events in association with Parks Rx Day and Arbor Day. So there are a lot of opportunities for you to have your say. We urge you to come and let us know what you'd like to see on the land. Keep an eye out here and on our Facebook Page and Twitter account for the details!
If you can't make one of these events we urge you to send us your ideas at info@taoslandtrust.org