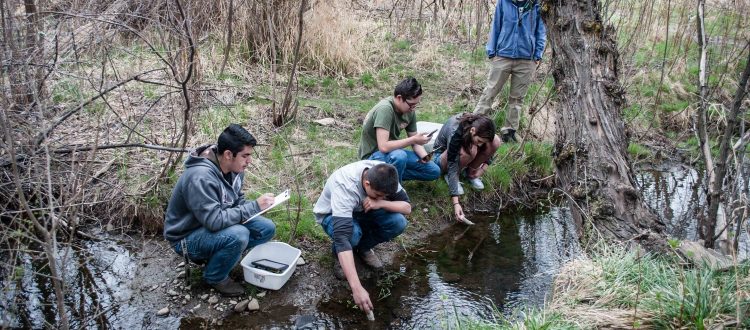 Youth Education and Experience – A Different Look at the Rio Fernando Park
Picture a park. You may envision a playground or people walking their dogs. Maybe you even think of a river or a lake. But did you imagine a student testing the water quality of that river? Setting up animal cameras? Mapping vegetation types? All of this and more takes place at the Rio Fernando Park. This park is both a place to walk dogs (on leash) and enjoy the serenity of nature and a central location for research and science projects. With Taos High School (THS) just down the road, there are numerous students at the park every day gaining their first job experience, training for competitions, and conducting research. The Taos Land Trust partners with many schools in the community, but their influence shows the most at the high school. Between the three interns, the Envirothon team, and the research statistics class, at least fifteen high school students make regular appearances at the park.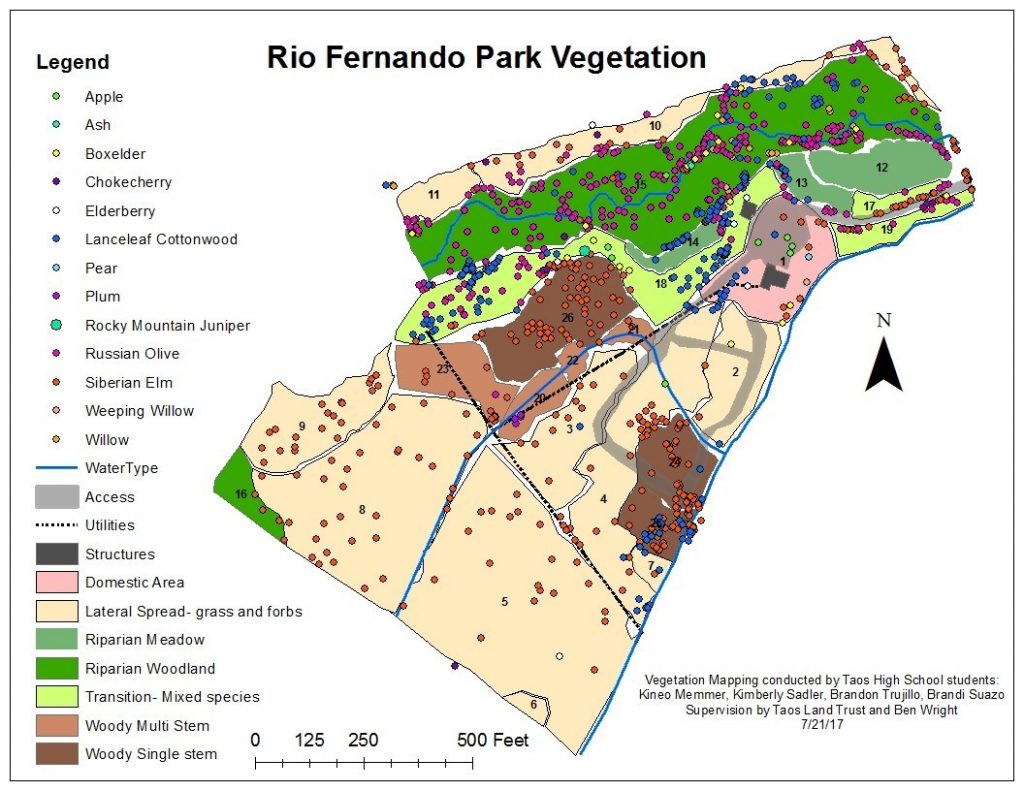 It all began in the summer of 2017 when the Taos Tree Board organized a summer internship using funding from New Mexico State Forestry. During the two-month long program, students used TreePlotter and ArcGIS Collector to survey trees in the historic district of Taos and the
Rio Fernando Park. Lead by local arborists and teachers, the student interns gained valuable knowledge about local forestry and experience using mapping technology. The Taos Land Trust used the map the interns produced in their master planning process for the Rio Fernando Park. This map has since been developed further and the land trust continues to use ArcGIS and other technology to manage invasive species, plan for future park development, and much more. This project was made possible by certified arborists Paul Bryan Jones, Kevin Clayton, and Ben Wright and THS teacher David Gilroy.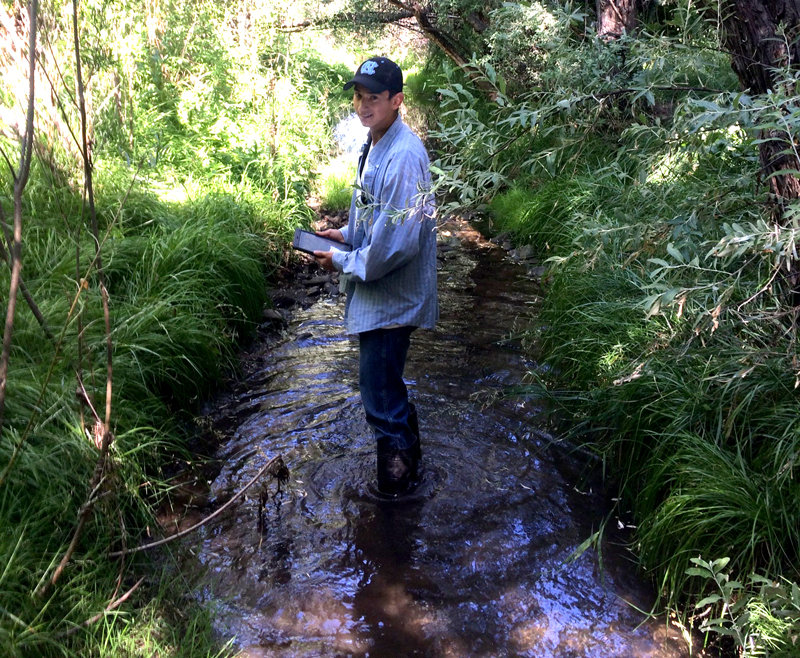 The tree survey internship sparked connections for many students, who went on to work with the Taos Land Trust farther. One intern, Brandon Trujillo, went to college at New Mexico State University after the summer internship, then came back to work as a Youth Conservation Corps (YCC) crew lead in 2018. Over the summer, the YCC crews gained valuable leadership skills and learned about the Rio Fernando Watershed and local acequias. Brandon returned to college in Albuquerque this year, but plans on applying for another crew position this coming summer. Another tree survey intern, Kineo Memmer, returned to the land trust in October 2017 as a Wetland Restoration Intern and has remained in the same position since. Kineo has many responsibilities, including ArcGIS mapping, grant writing and research, and wildlife documentation. Kineo is a senior at Taos High School and plans on continuing her internship through the summer.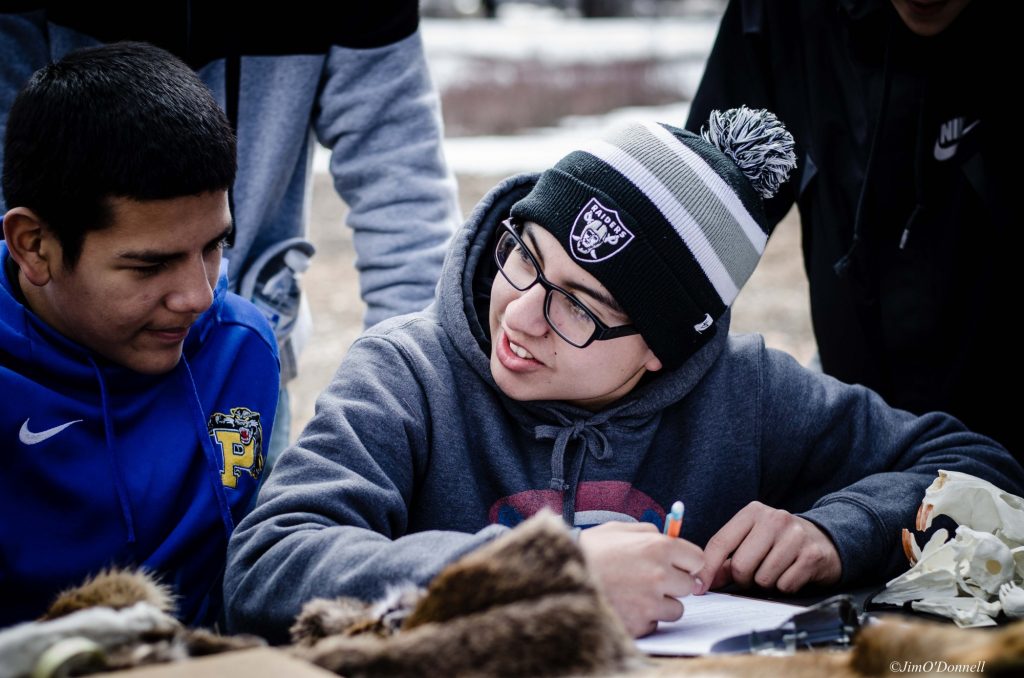 (Please support our work to improve educational and employment opportunities for our our. DONATE ONLINE NOW)
There are currently two other interns working at the Taos Land Trust, both juniors at Taos High School. Angelo Florez began his work as a YCC crew member in 2018 and currently works as a land care and digital media support intern. He continues to care for the Rio Fernando Park, documents progress on the land through ArcGIS and photo points, and edits media coverage. Both Kineo and Angelo's internships are funded by a National Recreation and Park Association grant. Hailey Kauffman, the other high school intern, is funded through the Upward Bound Math and Science Program (UBMS). Katie Bryant, the UBMS Student Programs Specialist at UNM-Taos, makes this collaboration possible. Hailey does database management and conservation easement organization for the land trust. Each intern's individual work helps the Taos Land Trust to run smoothly, and provides work experience for the students.
Many other students utilize Rio Fernando Park , including the THS Envirothon team. The objective of Envirothon is for students to study soil science, aquatics, forestry, wildlife, and agriculture for their regional and state competitions. The Rio Fernando Park is an ideal location to study all of these aspects of environmental science, because of the diverse landscape and close proximity to schools. The Envirothon team recently underwent soil science training with Logan Peterson, a soil survey specialist with the Natural Resources Conservation Service out of the Santa Fe Soil Survey Office. Logan is the lead soil science expert for the New Mexico State Envirothon competition, and used the Rio Fernando Park as the field site for his training with the THS Envirothon team. Members of the Envirothon team have also done forestry workshops and tree surveys with Paul Bryan Jones, and water survey training with Shannon Romeling, the Projects and Foundation Coordinator at Amigos Bravos. Envirothon will host their Regional competition on the Rio Fernando Park property on Friday, March 1st. Taos County's Envirothon teams are sponsored by Taos Soil and Water Conservation District and organized by David Gilroy and Ernie Lopez.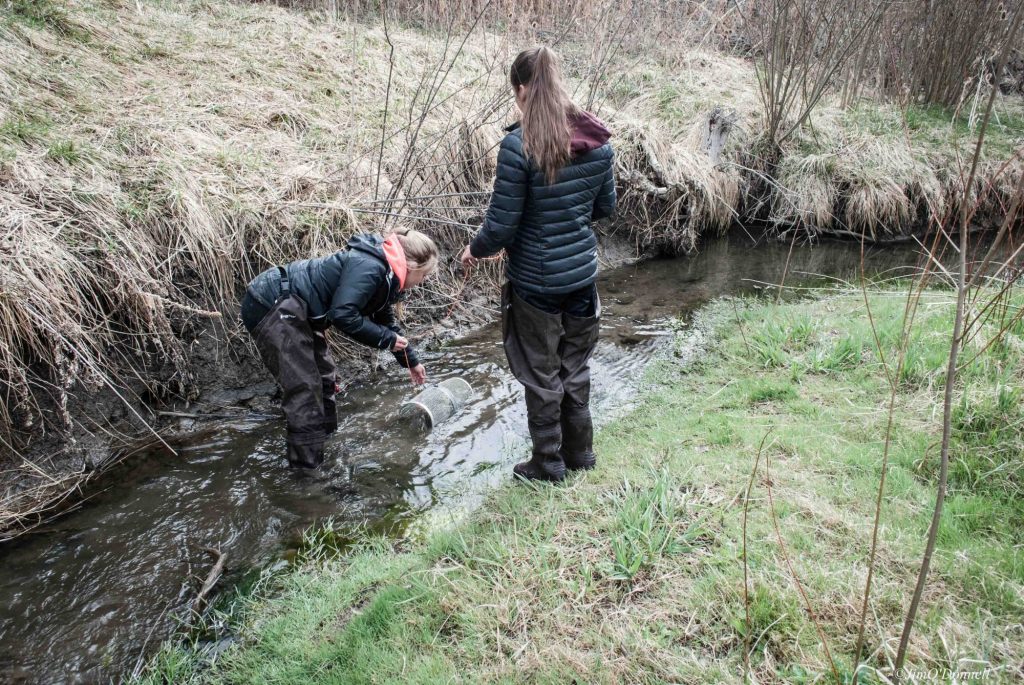 The last high school group who utilizes the Rio Fernando Park is Greg Rael's Research Statistics class. Greg Rael is the Math Department Chair at THS and the coach of the THS Envirothon team. Mr. Rael strives to create lasting collaborations in the community and enhance environmental education opportunities in Taos. For his Research Statistics class, he encourages students to choose an environmental research project and use the Rio Fernando Park as a resource. The class took a trip to the property in September 2018 to explore the many opportunities for research. Many students in the statistics class are also in AP Environmental Science, taught by David Gilroy, and are conducting research for both classes. There are currently four student research projects happening on the property. The students are conducting water quality analysis, a minnow population study, vegetation monitoring, and a compost quality study. The Taos Land Trust will use the data from these projects to make management and park development decisions.
Increasing opportunities of environmental education is one of the Taos Land Trust's main goals. Through these connections with high school students, the land trust is able to provide a safe space for students to explore their interests and learn more about the world around them. Over the past few years, the Rio Fernando Park has transformed from an abandoned piece of agricultural land into a vibrant park teeming with new ideas and innovative approaches to conservation. Hopefully students will use their experiences at the Rio Fernando Park to build better futures and help improve the world.