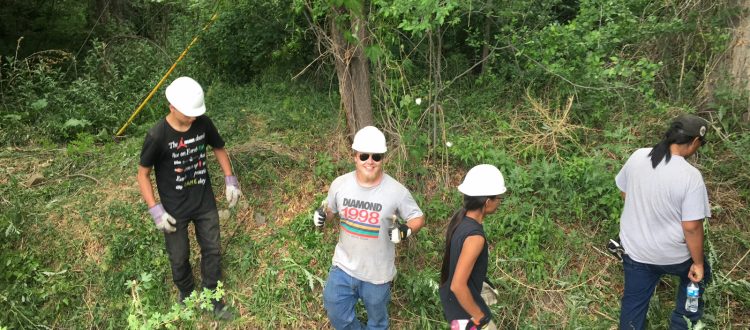 Youth Conservation Corps Jobs Soon Available at Taos Land Trust!
It is official!
The Youth Conservation Corps is returning to the Taos Land Trust for the summer of 2019.
We will be seeking a team of 14 New Mexican youth aged 16-25 to take on the next stages of transforming Rio Fernando Park into a public agricultural and nature space for our Taos community.
These are full-time positions. We are paying $12/hour for crew chiefs (2) and $10/hour for crew members (12).
We plan to have the application process open up March 1st, 2019. Those that are interested will be able to apply online here at our website. The application deadline will be April 30th. Crew chiefs will start working May 21st, 2019 and the full crews will begin work on June 3rd. The jobs will run through the first week of August.
We hope to see some of our 2018 YCC crew back here with us along with some new faces. This year we will continue our work on the Vigil y Romo Acequia restoration, the invasive species management, trail building, native species planting (trees, shrubs, forbs and grasses) in our freshly restored wetland areas, agricultural work such a constructing planting beds, laying out flood and drip irrigation systems and even getting those ag beds planted with some food!
One of the very cool things about this program is all the educational opportunities we build into the program. It isn't all just work!
Keep an eye out here on our blog and on our Facebook, Instagram and Twitter pages for more information towards the end of February.
Once again, thanks to our fabulous partners, volunteers and supporters, we are proud to be able to bring conservation jobs to our community.