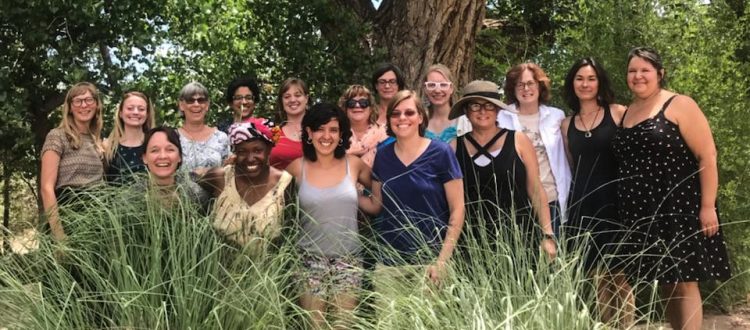 Taos Land Trust Committed to Equity Diversity and Inclusion in Conservation
Earlier in June, Taos Land Trust staff attended an Equity Diversity and Inclusion in Conservation Training in Albuquerque. The training was put on by the Center for Diversity and the Environment (CDE), a non-profit whose vision is "a healthy, flourishing planet and society that sustainably and equitably meets the needs of all through an environmental movement that is diverse, inclusive, successful, vibrant, and relevant, taking into account the needs, perspectives, and voices of all. The Center for Diversity and the Environment harnesses the power of racial and ethnic diversity to transform the US environmental movement by developing leaders, catalyzing change within institutions, and building alliances."
The Environmental Education Association of New Mexico helped bring the CDE to New Mexico and provided scholarships to cover participation. In applying for the scholarships, we reflected on why equity, diversity, and inclusion (EDI) is important to us personally and organizationally. In thinking about these questions, we as a staff had conversations and reflected on the current state of EDI in our professions.
The fields of Environmental Education and Conservation require a critical lens when it comes to EDI representation. Too often, we find that in the world of mainstream environmentalism, minorities and people of color are not fairly represented or included. Historically, this has been the case even more so with foundational members of Environmentalism such as Madison Grant, John Muir, and Theodore Roosevelt building off ideas often rooted in racism and white supremacy. During the EDI training, we examined this history more deeply in The New Yorker article "Environmentalism's Racist History" by Jedediah Purdy.
Reflected in this piece is the general theme of misrepresentation and abuse of especially Native tribes throughout the United States history of Environmentalism which has since been skimmed over as something that is "history now". This false belief is what keeps us as humans disconnected from sincerely building an inclusive environmental movement because we are denying our history and acting like it's not still happening. To "unpack" the systemic issues that oppress minorities and people of color in Environmentalism, it takes acknowledging where historical environmental mindsets have been to better envision the diverse future of what we want the world of Environmentalism to look like.
"Diversity… is not polite accommodation. Instead, diversity is, in action, the sometimes painful awareness that other people, other races, other voices, other habits of mind, have as much integrity of being, as much claim on the world as you do."

― William Chase
This work takes being open to vulnerability, which we were asked to deepen our understanding and comfortability with during our training. To start, we were asked to watch a TED talk by Brené Brown (highly recommended!) and as a group talked about the importance of the five characteristics of vulnerability which are to:
1. Have the courage to be vulnerable
2. Show up and be seen
3. Ask for what you need
4. Talk about your feelings
5. Have hard conversations
These characteristics helped open up dialog between fellow training participants as well as between the Taos Land Trust staff. Were it not for this foundational agreement we made with ourselves and our fellow participants to be vulnerable, we would not have had the deeply important and difficult conversations about the realities of equity, diversity, and inclusion.
From there, we learned many other communication skills in how to interrupt and redirect oppressive and problematic language and action. The key points included:
• It is important to remember that stopping problematic language helps contribute to a safer environment.
• Choose your battles. You will not likely be able to interrupt every comment, every time. Take care of yourself and know your emotional capacity and limits.
• Consider time and place. Sometimes the interruption will need to happen after the comment was made, if you need privacy, or direct if intervention isn't possible or ideal.
• Consider confidentiality. It is sometimes important to pull the person aside and talk to them privately.
With these skills practiced throughout the training, I can say that I feel better equipped to address the challenges and opportunities that lay before us in the Environmental movement. It takes an iterative process to create change which involves progressing through the three levels of change which are:
• Personal/individual
• Group/Interpersonal
• Systems/Organizational
Having reflected on the aspects of each of these levels of change during and after the training, I will continue to deepen my levels of change and I trust that my fellow staff at Taos Land Trust will as well. Everyone deserves a place in the current and ongoing environmental movements and we must choose to lean into to work of EDI to ensure equity diversity and inclusion in conservation and that Environmentalism has a vibrant and successful future.