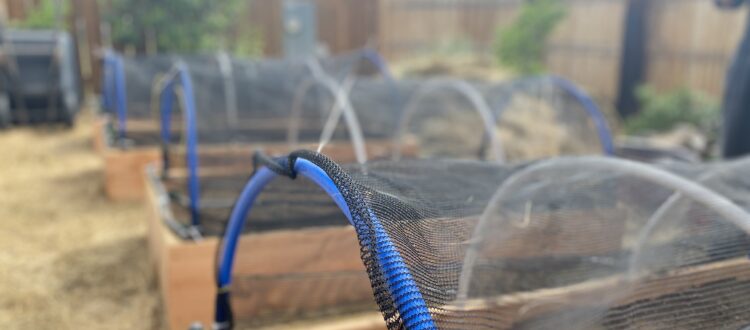 Eighty Taos Families Served by Taos Land Trust Garden Box Project
By Chyna Dixon, Working Lands Resiliency Coordinator
This summer, Taos Land Trust, in collaboration with community partners, built and distributed 80+ planting-ready 4×8 garden boxes – complete with soil, irrigation equipment, hoop house coverings, and seed – to families in our community.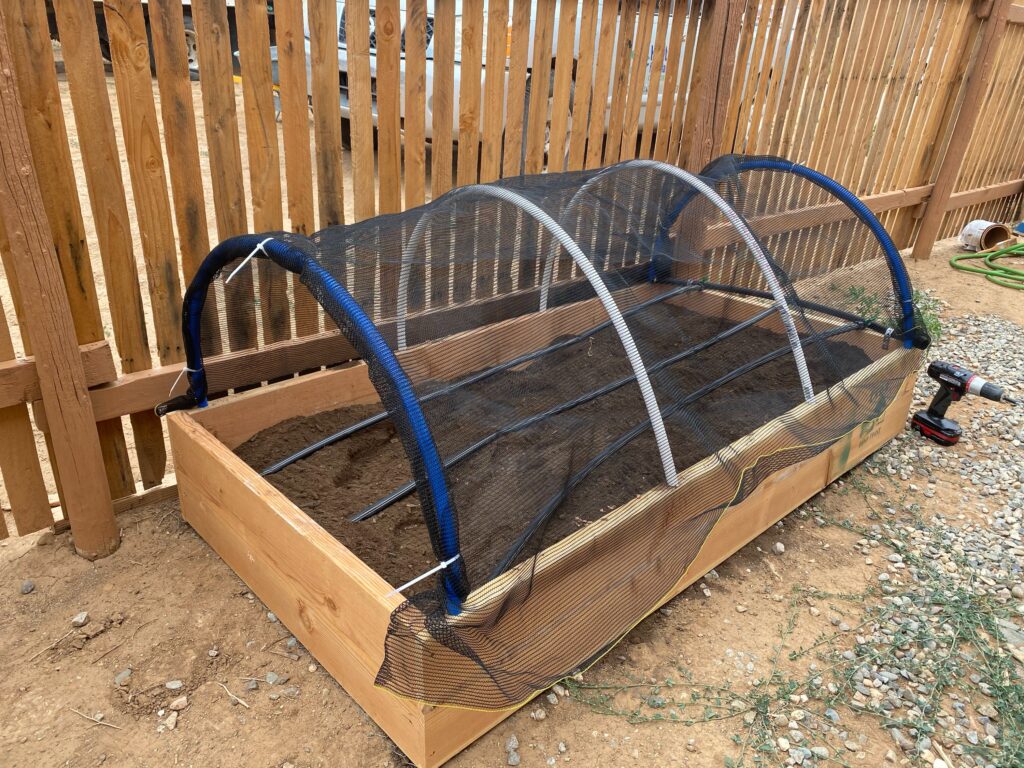 Among the many existing structural inequities that COVID-19 cast into the light is our community's deeply insecure relationship to food, exacerbated by the crash in the tourism and hospitality-driven economy in Taos that has left many without work. 
The number of families receiving nutrition support from local food distribution centers has dramatically increased, as has the need to support students whose primary access to food is through schools. As members of our community have been forced to stay at home these many months, thoughts have turned to land, water, resilience.
Seeds sold out, as more at-home gardens were planted than have been in recent memory. These changes in the pace and focus of life have manifested in a variety of ways, including a renewed emphasis on food production and security, regional food planning, youth employment and livelihood opportunities, cross-sector collaboration with educators and producers.  
The most-exciting element to emerge from our food security work was the development of the Community Garden Boxes project. We offer these planter boxes free of charge to elders, families with children, and other interested community members.
When the Community Garden Box Project began, we thought we would build and distribute 10 boxes in total. As word spread about the project, community members and leaders quickly reached out — eager to know if we might be able to produce just a few more. Thus, what began as a small day-long project at the park turned into the creation of what we affectionately called our "box factory", staged on-site at Rio Fernando Park. With a generous donation from Taos Community Foundation, and spurred on by the positive community feedback, we soon set our sites on producing 80 boxes total.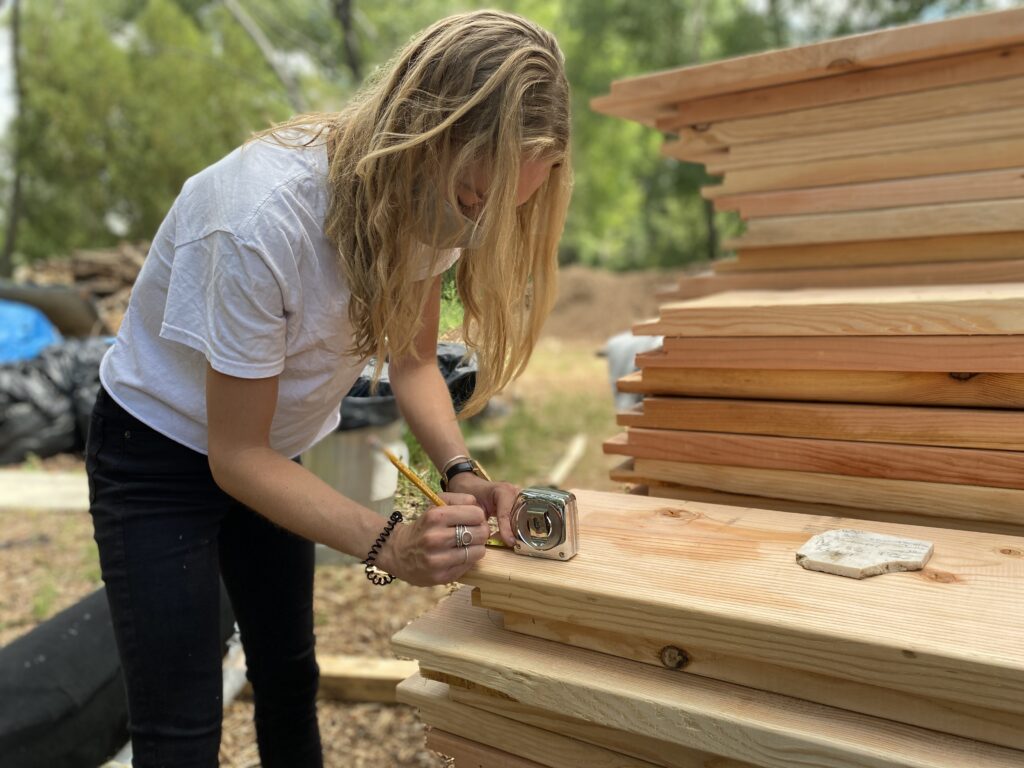 ~~~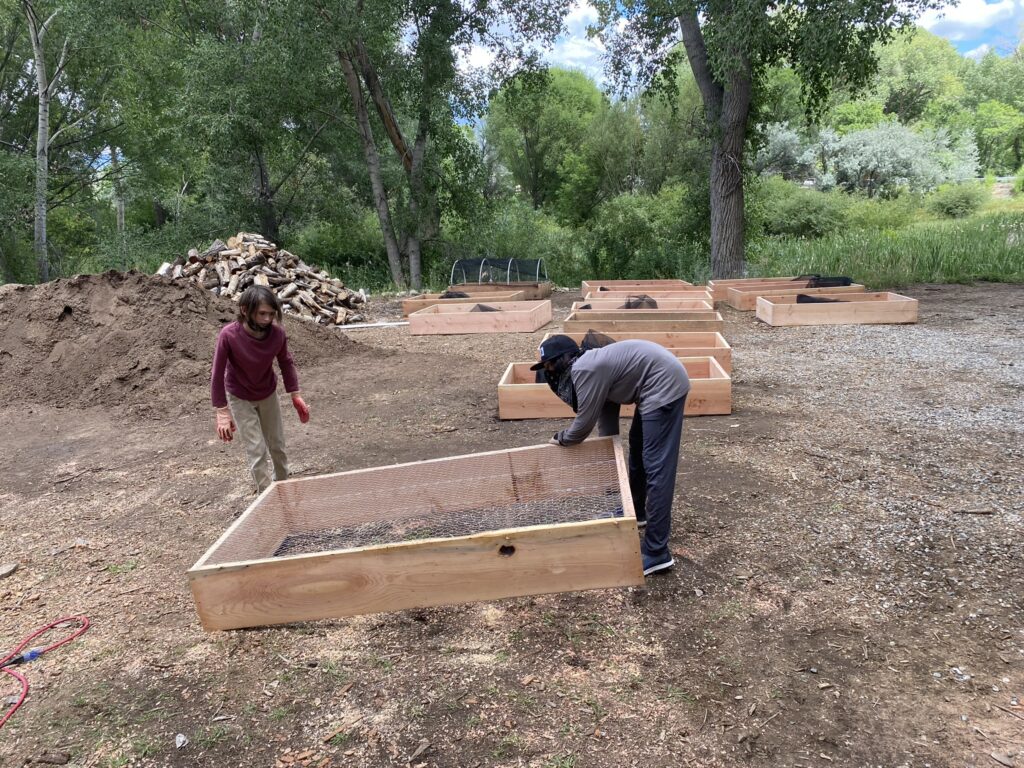 Ben Wright, our Land Manager and Education Coordinator, designed the box prototype. Lumber and materials were acquired through Ace Hardware via a generous donation, the soil was procured in bulk from Dave West, seeds were donated by Erin Sanborn, a stencil was designed by Sarah Hart, and our Youth Conservation Corps members arrived on the scene, ready to build. Mary Hanrahan designed our brochure and instructions. Ilan O'Donnell from Roots and Wings Charter School and Sky Prentice from Anansi Charter School pitched in and worked alongside our YCC crew to build the boxes. Brett Tomadin helped us out with deliveries.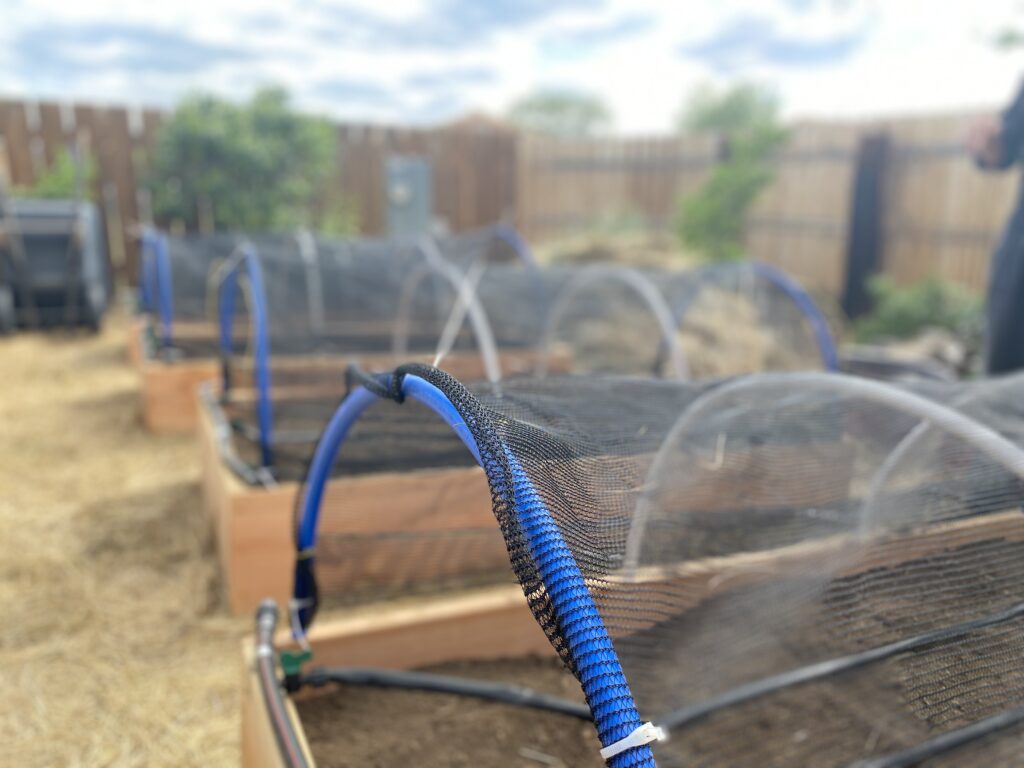 Siena Sanderson of Enos Garcia/Nurturing Center, Miriam Jones of Habitat for Humanity, Tiana Suazo of Red Willow Farm, Amanda Flores and Corbett Wicks of Vista Grande High School, and Jesus Rosales of Enos Garcia Elementary School all worked in concert to reach out to their respective networks and community organizations to elicit responses from interested families. Soon, the project was in full swing.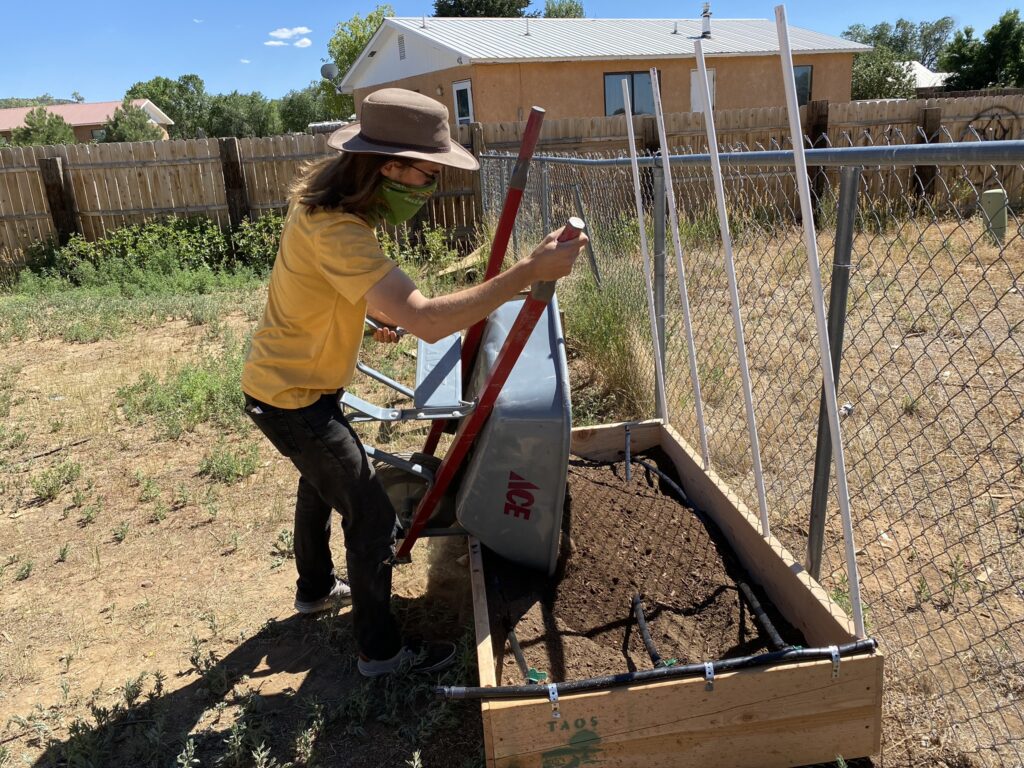 Mike Musialowski donated his labor and his knowledge to both build boxes, and to inform our permaculture-inspired planter guide (link coming soon); Joshua Diem, our Harvard Graduate School of Design Fellow, cut and drilled the planks with expert precision. Kit Carson Electric Coop supported us with a few days of deliveries, and Habitat for Humanity brought their aptly named box truck to help us haul and distribute more than half of the total number. 
Mudslides were made, wheels went flat, hail storms caught us by surprise… We faced a number of challenges. But as the days waned on, the crew began to wonder if we would finish assembling these boxes before the first snow. Patrick O'Brien and his crew quickly came to our side, helping us cut and finish the remaining boxes. Again, without the generous people of our community, we could not have gotten this done. 
In total, this project reached over 250 individuals in Taos; 80 families, 150+ children, many elders and grandparents, 10+ families impacted by incarceration. 
Through the Community Garden Box Program, organizational partners spent several weeks in the community, delivering boxes and speaking with families about growing food. Food security in this region is correlated with both the tangible nutritional and health impacts, as well as the non-material indicators of greater community-level resilience via cultural and community connection. These conversations highlighted the need for greater material capacity support for small scale food security endeavors, while simultaneously illuminating the remarkable tenacity and fortitude of some of our community's families when it comes to growing food. 
The community feedback around this project has been remarkable, and we are eager to continue this project into the future as an annual endeavor. We also hope to create learning groups, in which new box recipients can share knowledge or questions with a larger community of growers. 
To support the project, or to ask us any questions, please go here.  Thank you, Taos!  
##