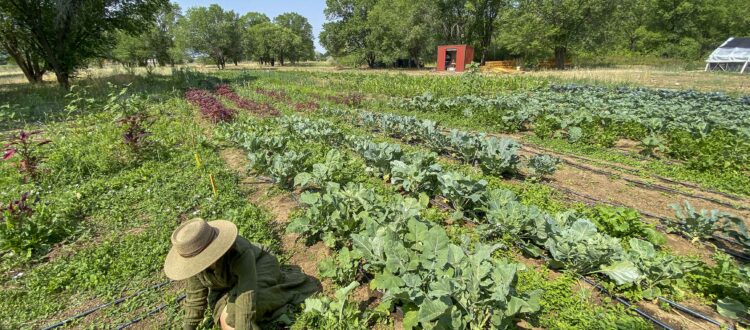 Vista Grande Gardens at Rio Fernando Park
It's another unusually hot July day in Taos. The air is humid, for New Mexico. Dark, monsoonal clouds gather over Taos Mountain. Harvest is underway in the gardens at Rio Fernando Park. 
"After this summer, I feel like I could run my own garden," says Nick Lujan, Youth Conservation Corps (YCC) crew member. "I could grow and harvest my own food."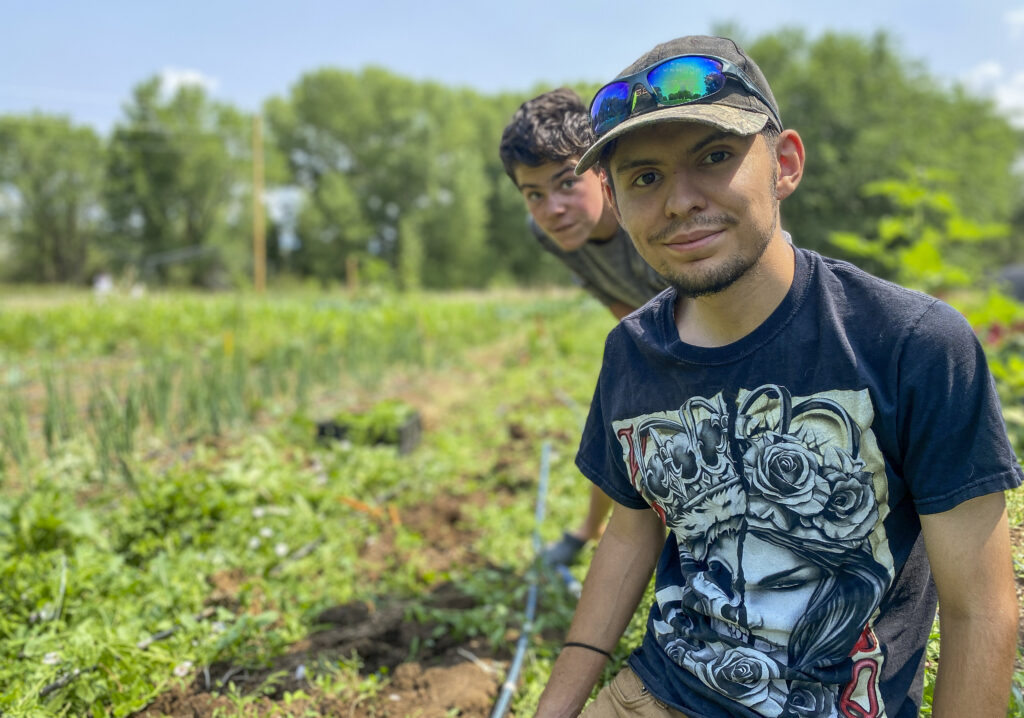 Nick and volunteer Ilan, a student at Roots and Wings Charter School, are pulling thick, orange carrots and fist-sized daikons from the soil and Rio Fernando Park. It's the third year of the Taos Land Trust vegetable garden and the second year of the Taos Land Trust – Vista Grande High School (VGHS) food security and education partnership.
While Lujan continues to pry the carrots from the soil with a pitchfork, Ilan carries a crate full of the roots to a table where other YCC crew members wash and weigh the carrots and daikons along with beets and radishes.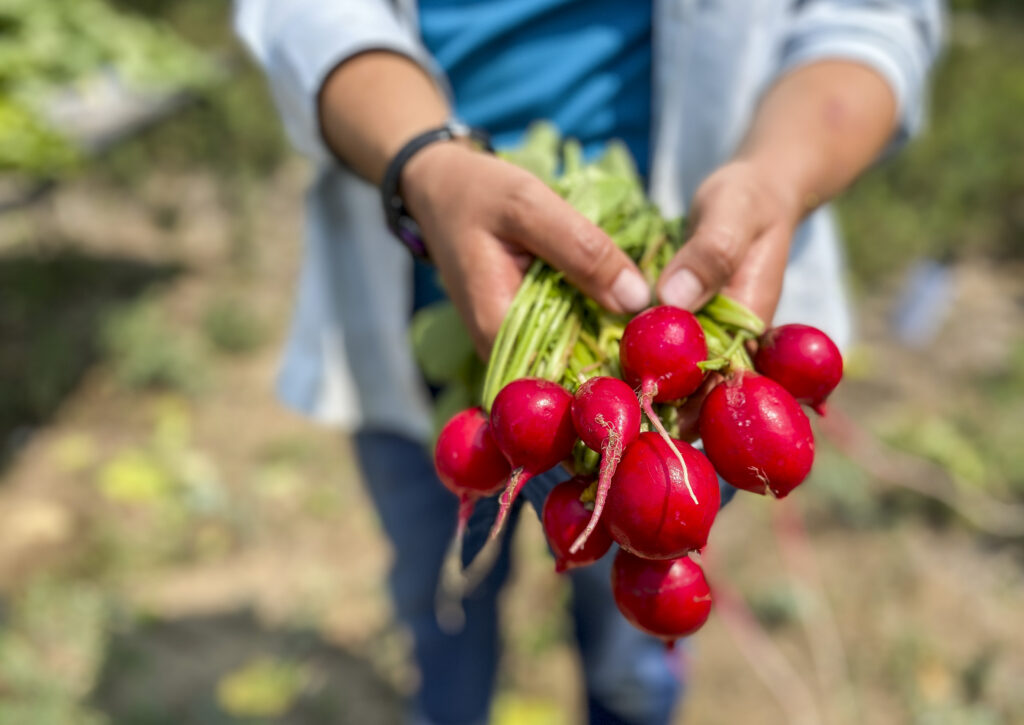 "We grew several thousand pounds of veggies from the Vista Grande Gardens at Rio Fernando Park garden last summer," says Aimee Lynn Stearns, VGHS's summer grower. 
"So far this summer, we have harvested almost 400 pounds of food, and we are looking forward to an abundant fall harvest."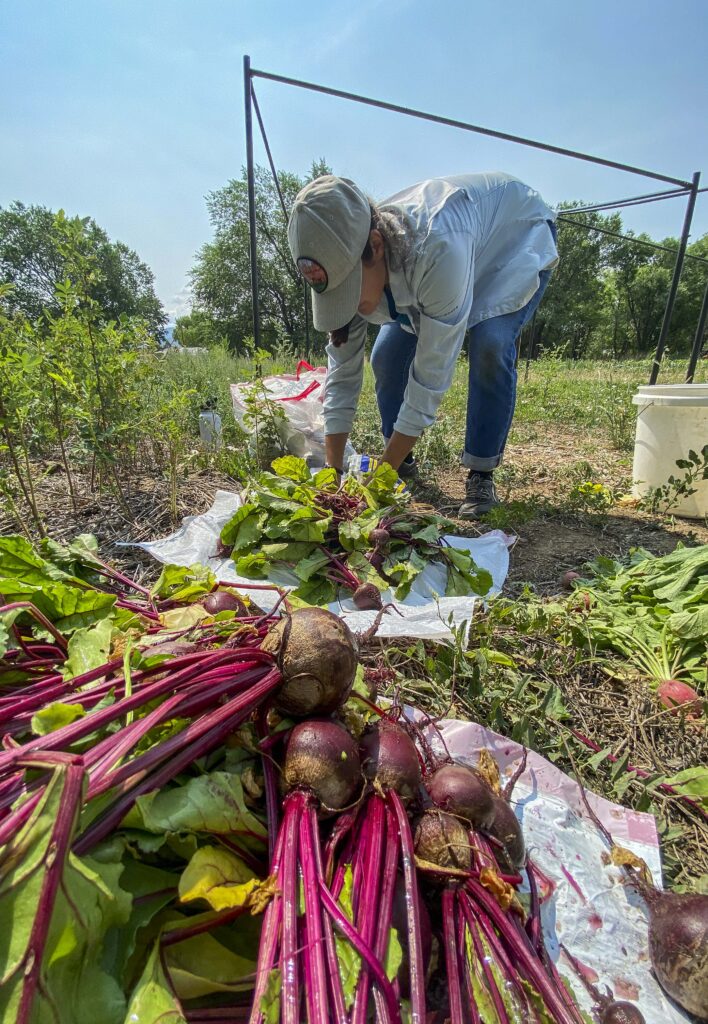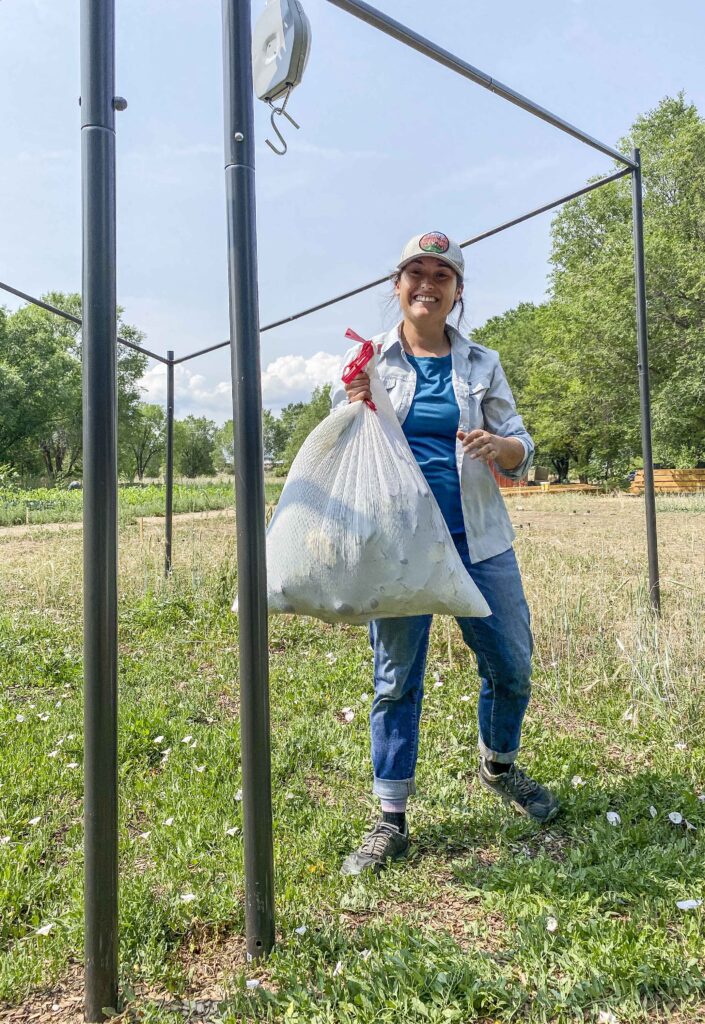 Stearns, runs the garden alongside VGHS teacher and Farm manager, Corbett Wicks, the YCC crew, several volunteers – and when school is in session, paid student interns from VGHS.
The project is funded by Career Technical Education (CTE) and Perkins grants Indigenous Education Initiative grant (IEI) and a Community School grant. The food reaches VGHS families, YCC families and the St. James Food Pantry. 
"We had twenty-seven families sign up for free summer shares when school was in session, says Wicks. "Many other families picked up food at the weekly food distribution drive through pickups at VGHS." 
"It is rewarding to be cultivating and distributing free food to our community!" says Stearns.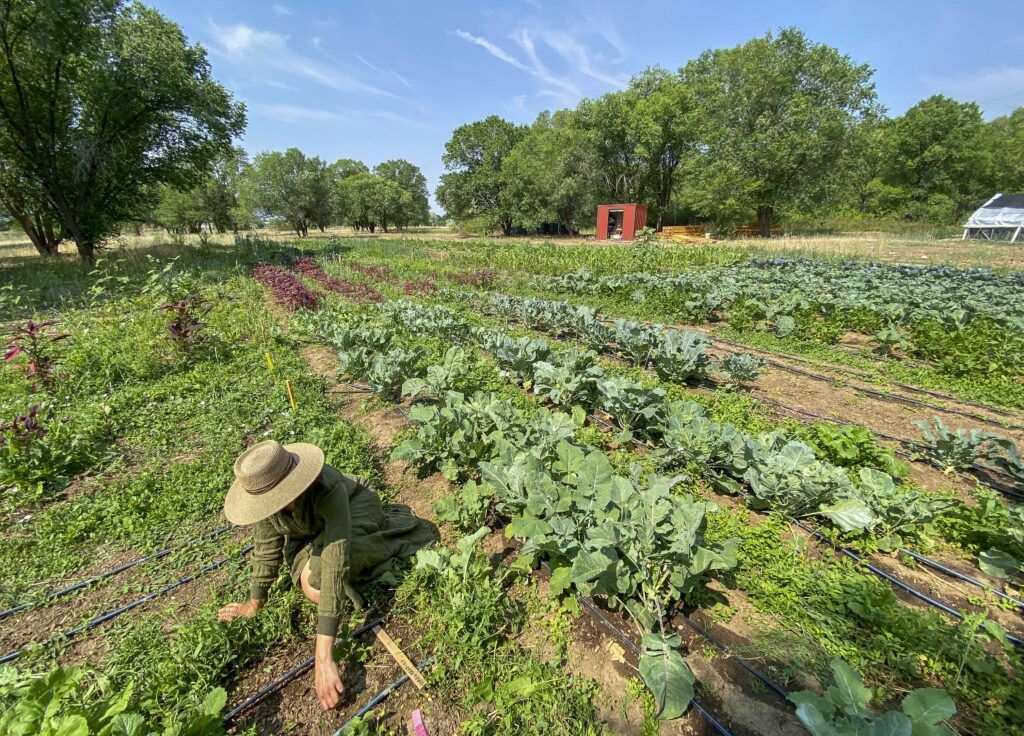 The TLT-VGHS project is linked to both the TLT Emerging Farmer's Program and the Sustainable Agriculture program at VGHS. The garden work integrates with core classes at the high school. With that in mind, the focus is on education and experimentation over production. Students have designed their own research questions and placed interpretive signs around the Rio Fernando Park garden. 
What are the results if one bed is tilled and one is not? Does a shade cloth help or hurt a particular vegetable? What kinds of beans work best with corn?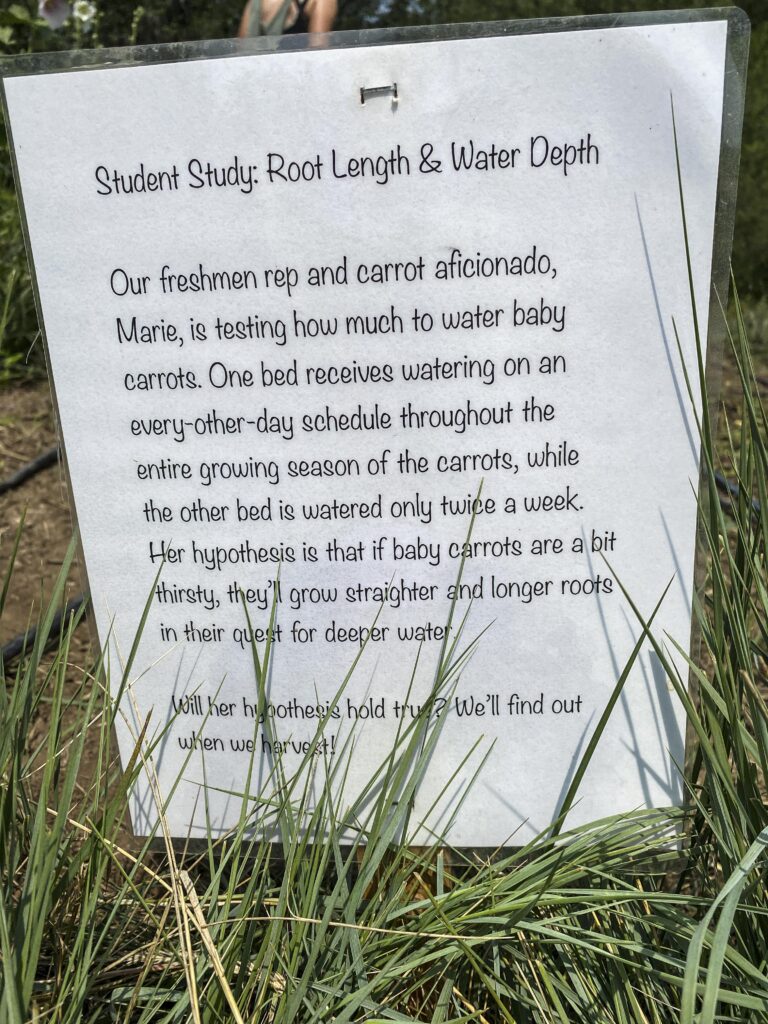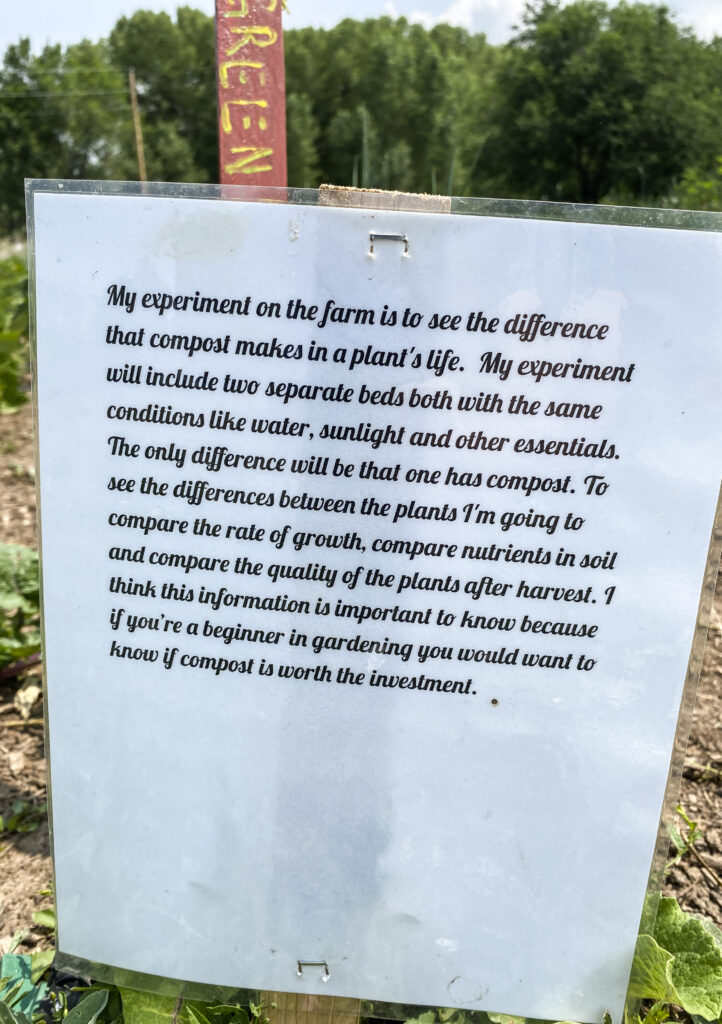 "I like the honey harvesting process best. It's fun," says Sophia Zandi, another of the YCC members. The latest harvest was five gallons. "But learning what healthy soils really means and how to imagine a sustainable community built on fresh foods is the most valuable thing."
Nick Lujan likes all the experts he has been able to meet this summer. "I've been able to talk with master gardeners, noxious weed experts and compost professionals. I didn't even know there was such a thing!"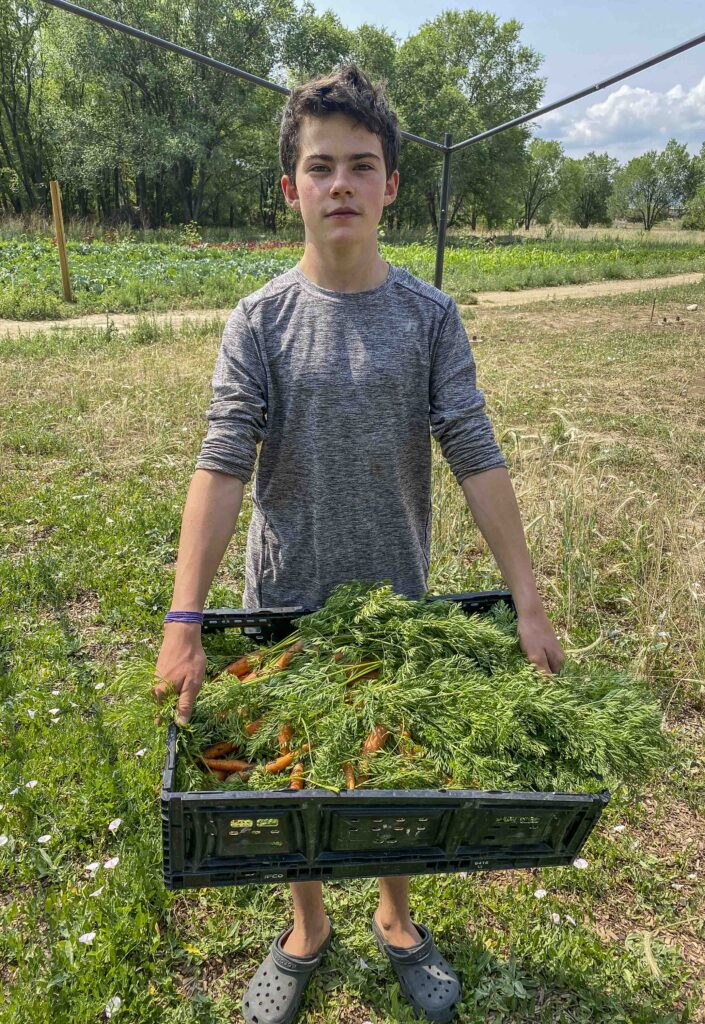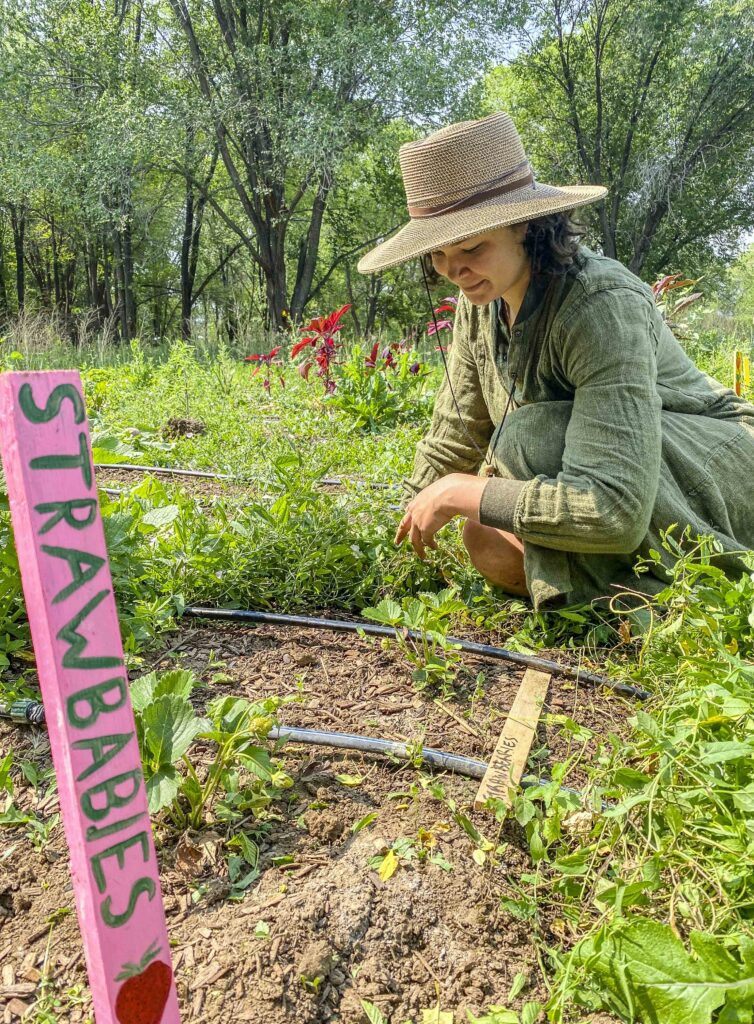 Wicks and Stearns have their eyes set on the fall harvest. An outdoor wash station is under construction and a refrigerated trailer is nearly complete. 
"We've got cabbage, corn, beans, squash, amaranth, kale, chard, tomatoes and more coming soon. And more root veggies!"
~~~
The Taos Land Trust will host our annual fall harvest festival the week of September 20, 2021. Drop by for birding walks, tours, tasting, lectures and activities. We aim to kick off our fall/winter fundraising in style!