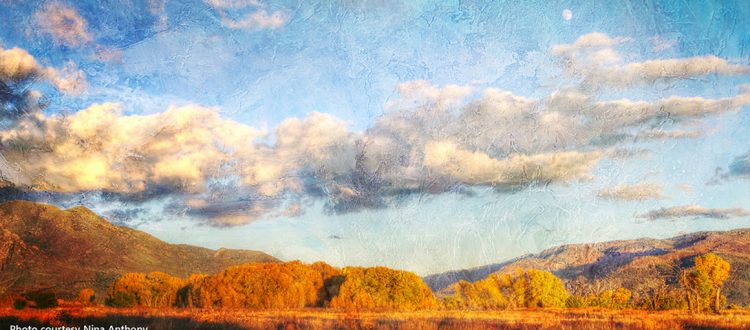 A Heartfelt Message from our Executive Director
Did you know that the average American child spends just 4 – 7 minutes a day playing outdoors?
It's true. Even in places like Taos, kids are spending much of their time inside. The average American child spends just four to seven minutes a day playing outdoors and up to seven hours a day staring at a screen. Research shows it's bad for their brains—and their bodies. Diabetes, attention deficit disorder, heart disease, depression, myopia, allergies, and asthma have all skyrocketed.
Each year, Taos gets a bit more gets chopped up by scattered development and the wildlife and cattle get pushed farther away; the kids lose out on a place to play and explore, and our families and elders miss vital connections to home and the lands they love.
But you can change that.
Taos is a place where the child in your heart and children in our community can find inspiration and adventure at every turn—if we conserve these special places for everyone. There is an extraordinary opportunity for you to create places for people in Taos to walk, experience nature and come together for celebrations and family events.
It's a place called Rio Fernando Preserve, a 20-acre sanctuary adjacent to Fred Baca Park in the center of Taos that the Taos Land Trust recently acquired. It's truly a nature lover's paradise with 13 acres of riparian land, an urban forest, and lots of towering cottonwood trees that attract a diverse array of birds—including some endangered species.
Hobbit holes. Treehouses. Tipis. An interpretive nature trail with signs made by kids. A community garden to help families eat healthier. A place in the river to swim and float little boats. These are just a few of the things children have told us they would love to experience at the soon-to-be-public Rio Fernando Preserve, right here in the heart of Taos.
But there is work to be done before we can open this unique property to the public. Like mitigating noxious weeds, cleaning the Rio Fernando, plowing the land for a garden, and designing and cutting trails.
And we can't do it without you.
This holiday, your gift will provide a special place in nature—right here in Taos—for generations to come.
You'll also be helping to create a partnership with local schools to bring children out to learn, explore, and experience nature—something that's critical for them and the future of conservation.
The amazing thing is that our community is coming together to conserve the lands we all hold dear: the farms and ranches, sweeping views, streams and rivers, and homes for wildlife—before they are lost—one beautiful ranch, one special stream, one childhood memory, at a time.
Your gift will also help us to create the first-ever Parks and Trails Prescription Program connecting doctors, kids and families, and the land to create a healthier community.
Prescription Trails programs are one of the fastest growing methods of creating healthy communities across the country, and you'll be making that happen, right here in Taos.
And, in response to community demand, we'll also be working to create additional trails in town as well as connecting trails to area public lands for you to enjoy.
Our goal is to raise $85,000 to get these projects up and running.
Your tax-deductible gift will conserve the sweeping panoramas, vital rivers and streams, habitat for wildlife and working farms and ranches that make Taos a place like no other.

---
It's caring and compassionate people like you who are investing in the health of the land and our communities across northern New Mexico who give me such hope and joy. Thank you, and have a lovely holiday season.
Por la tierra,

Kristina Ortez de Jones
Executive Director
---
P.S. For as little as $25.00 a month, you can make a difference all year long and become a conservation leader. It's safe and easy to do on our website. Just select "Make this a recurring donation" and select how frequently you'd like to make a donation.
Click the link to our Donate Form and please make as big of a donation as you can. Thank you for being a conservation hero!
About Post Author