Food producers have been hit especially hard by the coronavirus pandemic. Taos Land Trust aims to keep northern New Mexico gardeners, ranchers, farmers and other producers up to date on assistance they may be eligible for to help get through this crisis. We will continually update this COVID19 Resources for northern New Mexico Food Producers.
(Last update: June 22, 2020)
NEW MEXICO COALITION TO ENHANCE WORKING LANDS (CEWL) COVID19 Resource Page
Each week NM CEWL will updates their site to highlight stories of hope and resilience, new funding opportunities, upcoming events, food safety and COVID-safe best practices, and mental health support and resources for producers. We hope you find it's a useful resource to send through your networks to provide support to producers across the state. Find NMCEWL's page here.
CORONAVIRUS FOOD ASSISTANCE PROGRAM (CFAP)
CFAP will provide $16 billion in financial assistance to producers of agricultural commodities who have been affected by price declines and who are experiencing additional marketing costs due to COVID-19. Farmers, producers, and ranchers of specified agricultural commodities who (1) have experienced a five-percent-or-greater price decline OR (2) had losses due to market supply chain disruptions due to COVID-19 and face additional significant marketing costs are eligible for up to $250,000 in relief payments. Continue reading the NM CEWL quick sheet here to learn more about eligibility and application assistance.
ECONOMIC INJURY DISASTER LOAN AND ADVANCE PROGRAM (EIDL)
The EIDL program is a loan program through the U.S. Small Business Administration which includes a forgivable advance up to $10,000 and loans up to $2,000,000 for economic relief to agricultural businesses with fewer than 500 employees that are currently experiencing temporary difficulties. Learn more here.
Farm Service Agency (FSA) LOAN DEFERMENT
USDA's Farm Service Agency (FSA) recently announced changes to federal farm loan programs to provide immediate, short-term relief to farmers, and will now allow those with existing FSA farm loans to defer their payments for up to a year. Read more at about eligibility, restrictions, and considerations here.
CFAP Webinars for Stakeholder Organizations and Ag Producers Announced
Stakeholder Organizations:
Interested in assisting your members and agricultural producers in participating in the Coronavirus Food Assistance Program (CFAP)? Join us for a webinar designed just for you. Learn CFAP basics and resources available to help the agricultural producers you serve.
Coronavirus Food Assistance Program Stakeholder Webinar
When: Friday, June 5, 2020 at 3:00 P.M. EDT
This webinar is intended only for organizations that serve farmers and ranchers. Please preregister by clicking on the webinar link to enter your name, email, and organization information. This allows FSA to ensure adequate lines for all participants on this webinar.
FSA will host an additional webinar series for producers beginning on June 9th. These webinars will be recorded and made available online after each live event. The dates and times are listed below for the producer webinars. Please visit FSA Outreach for more information.
Please email fsaoutreach@usda.gov with any questions.
Agricultural Producers, Farmers and Ranchers:
The Coronavirus Food Assistance Program (CFAP) webinars have been announced for agricultural producers, farmers and ranchers. You can learn more about the CFAP and how to submit additional commodities for USDA consideration through the NOFA process.
Webinar Dates & Topics:
June 9 at 3:00 p.m. EDT – Outreach CFAP Webinar for Specialty Crop Producers
June 11 at 3:00 p.m. EDT – Outreach CFAP Webinar for Dairy & Non-Specialty Crop Producers
June 16 at 3:00 p.m. EDT – Outreach CFAP Webinar for Non-Specialty Crop & Livestock Producers
June 18 at 3:00 p.m. EDT – Outreach CFAP Webinar on FSA Programs in the Time of Coronavirus
Please check the FSA webinar page as pre-registration links will soon be posted.
CFAP Call Center
Producers are reminded that the CFAP Call Center is available for producers who would like additional one-on-one support with the CFAP application process. Please call 877-508-8364 to speak directly with a USDA employee ready to offer assistance.
FSA June Deadline Reminders:
~ ~ ~
Specialty Crops Producers Can Now Apply for Financial Assistance Through USDA's Coronavirus Food Assistance Program
Specialty crops producers can now apply for USDA's Coronavirus Food Assistance Program (CFAP), which provides direct payments to offset impacts from the coronavirus pandemic.
Producers can download the CFAP application and other eligibility forms from farmers.gov/cfap. Also, on that webpage, producers can find a payment calculator to help identify sales and inventory records needed to apply and calculate potential payments.
Additionally, producers in search of one-on-one support with the CFAP application process can call 877-508-8364 to speak directly with a USDA employee ready to offer assistance. This is a good first step before a producer engages the team at the FSA county office at their local USDA Service Center. Producers can find contact information for their FSA county office by visiting farmers.gov/CFAP and using the Find Your Local Service Center tool at the bottom of the page.To find the latest information on CFAP, visit farmers.gov/cfap or call 877-508-8364.
~ ~ ~
USDA Announces Details of Direct Assistance to Farmers through the Coronavirus Food Assistance Program
U.S. Secretary of Agriculture Sonny Perdue announced May 20, 2020, details of the Coronavirus Food Assistance Program (CFAP), which will provide up to $16 billion in direct payments to
deliver relief to America's farmers and ranchers impacted by the coronavirus pandemic. In addition to this direct support to farmers and ranchers, USDA's Farmers to Families Food Box program is partnering with regional and local distributors, whose workforces have been significantly impacted by the closure of many restaurants, hotels, and other food service entities, to purchase $3 billion in fresh produce, dairy, and meat and deliver boxes to Americans in need.
Producers can apply for assistance beginning on May 26, 2020. Additional information and application forms can be found at farmers.gov/cfap. Producers of all eligible commodities will apply through their local FSA office. Documentation to support the producer's application and certification may be requested. FSA has streamlined the signup process to not require an acreage report at the time of application and a USDA farm number may not be immediately needed. Applications will be accepted through August 28, 2020.
More information can be found at farmers.gov/coronavirus
~ ~ ~
Taos Land Trust Equipment Leasing Program
We are excited to announce the launch of our new equipment leasing program. Thanks to support from several community-minded Taoseños we are now able to lease a no-till seeder and a crimper to people growing food in our community. In an effort to nourish community agriculture, food sovereignty and food security, the Taos Land Trust offers our equipment program at a sliding scale fee for use. We ask that all members of our community who are able to pay full use price do so, in an effort to support those who lack capital access. We accept donations for this program, here (please include a note that your donation is for this program).  Each donation helps bring down the cost of the program, for all.
To register for this program and to get more information please contact info@taoslandtrust.org
~ ~ ~
USDA Posts Recording of CFAP Direct Payments Webinar
The U.S. Department of Agriculture (USDA) has posted a recording of the webinar for farmers, ranchers and other producers interested in applying for direct payments through the Coronavirus Food Assistance Program (CFAP) held Thursday, May 14, at 1 p.m. ET.
~ ~ ~
Small Business Administration Reopened Economic Injury Disaster Loan (EIDL) COVID19 Relief Program Only for Ag Businesses
SBA is encouraging all eligible agricultural businesses with 500 or fewer employees wishing to apply to begin preparing their business financial information needed for their application.
The SBA will begin accepting new Economic Injury Disaster Loan (EIDL) and EIDL Advance applications on a limited basis only, in order to provide unprecedented relief to U.S. agricultural businesses. The application is available at: https://www.sba.gov/funding-programs/disaster-assistance
The new eligibility is made possible as a result of the latest round of funds appropriated by Congress in response to the COVID-19 pandemic.
Agricultural businesses includes those businesses engaged in the production of food and fiber, ranching, and raising of livestock, aquaculture, and all other farming and agricultural related industries (as defined by section 18(b) of the Small Business Act (15 U.S.C. 647(b)).
At this time, only agricultural business applications will be accepted due to limitations in funding availability and the unprecedented submission of applications already received.
For agricultural businesses that submitted an EIDL application through the streamlined application portal prior to the legislative change, SBA will process these applications without the need for re-applying.
~ ~ ~
Agricultural Funding Resources COVID19 (please share!)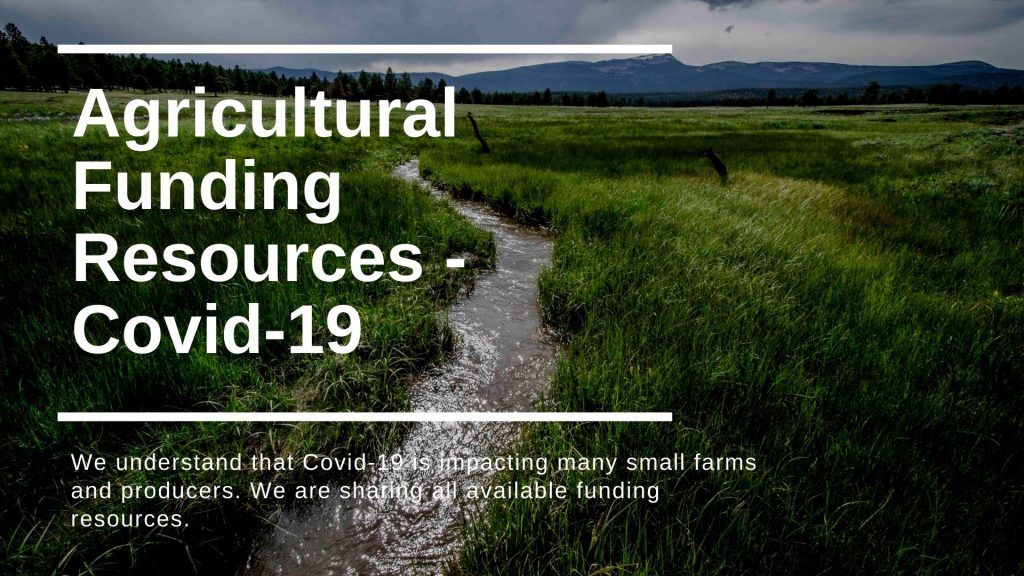 ~ ~ ~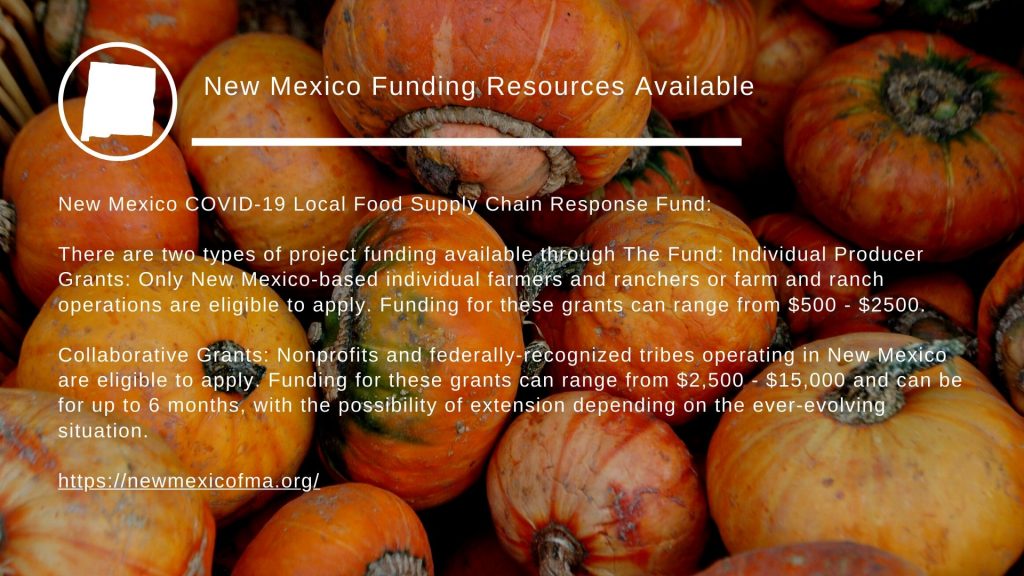 ~ ~ ~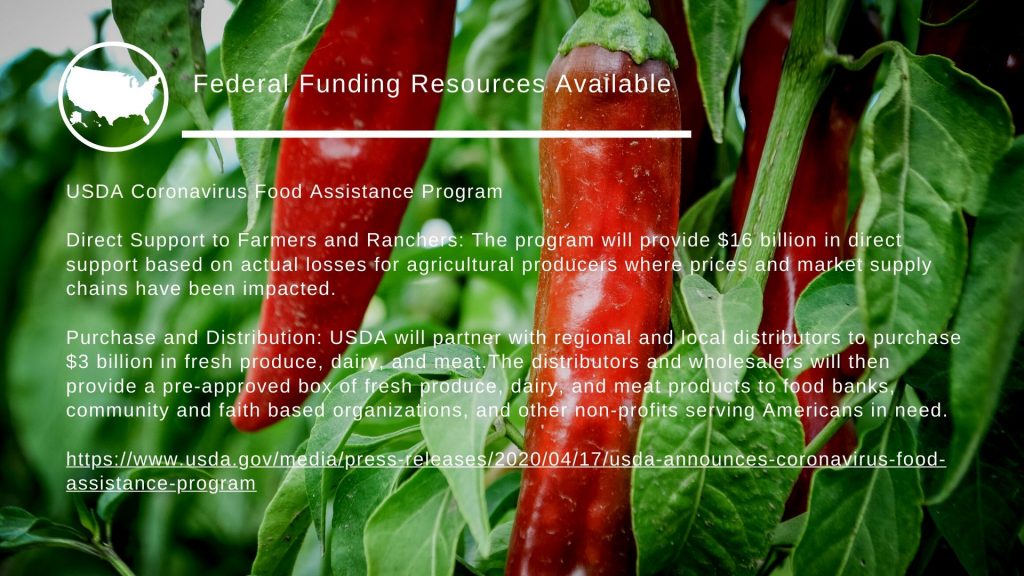 ~ ~ ~