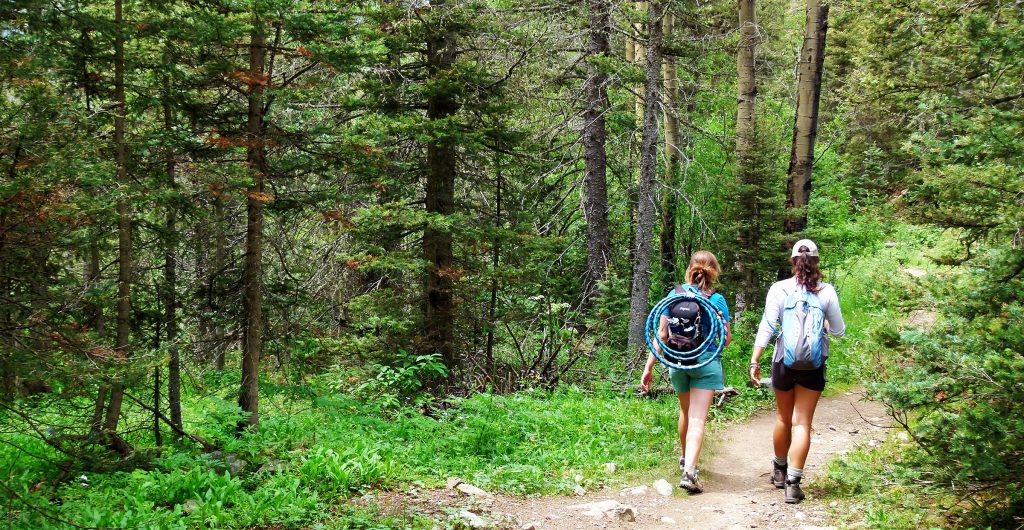 The goal of Taos Land Trust's Enchanted Circle Trails and Park Master Plan is to connect people to the North Central New Mexico landscape through a trails, parks and open space system that offers health, recreation, alternative transportation and resilient economic benefits to the community.
Taos County is an extraordinary place. People travel from all over the world to learn about our region's unique history and vibrant culture, mountain bike and ski our mountains, eat at our restaurants, and paint our landscapes. Those of us lucky enough to call this place home deeply understand the connections among the land, water, and people unique to this region.
Over the years, we have watched our towns sprawl and our lifestyles move increasingly away from the land. Our public spaces have become separated and segmented by high-speed roads, traffic congestion, and lack of pedestrian- and bike-friendly routes. Reaching forest trailheads, schools, parks, hospitals, and even bus stops, is not easy without a car. As a result, our pocketbooks, mental well-being, and physical health suffer. Trails and parks for all are desperately needed in our community, and this year Taos Land Trust is embarking on a community-driven journey that will inform our work to plan and develop parks and trails for local residents and visitors, children and elders, and recreationists and commuters.
Taos Land Trust has worked over the past 27 years to protect more than 25,000 acres of lush farmland, wetlands and forests, and wildlife habitat. While the land trust has always been committed to protecting our community's breathtaking natural and working landscapes, this year we are working toward an Enchanted Circle Trails and Parks Master Plan. Our vision is a region of that thrives economically and environmentally, knit together with parks and trails where our minds can rest and our bodies can play.
Getting There Through Community Collaboration
The Taos Land Trust's Enchanted Circle Trails and Parks Master Plan will depend on a series of meetings with locals who represent a spectrum of parks and trails needs. In order to ensure that the time and energy put forth by our community to develop this plan is fruitful, we are working closely with the Del Norte Trails Coalition which has been a champion of recreational trails in the region, and the Trust for Public Land's Conceptual Trail Plan process, which has the distinct ability to incorporate local input into state-of-the-art mapping software to illustrate parks and trails that reflect our community's identity.
The Trust for Public Land is a nationally acclaimed non-profit organization that has extensive experience assisting communities in planning meaningful parks and trails. Together, and with the support of our friends and neighbors, we seek to implement parks and trails that connect our community to the land and each other.
Implementation of Taos Land Trust's Trails and Parks Master Plan for the Enchanted Circle Region will be transparent. Once the hard work of developing the Master Plan has been completed, the information and maps will be available as a community resource for local utilization by individuals, businesses, organizations and government agencies, as well as tourists with an interest in a trails and parks system.
PDF DOWNLOADS OF THE CURRENT PLANS & REPORTS:
Taos County Community Conservation Plan 2017
Enchanted Circle Trails Plan 2017
Taos Community Conservation Plan Final Report (A-G) 2017
Enchanted Circle Trails Plan Final Report (1-5) 2017
We are thrilled to begin the work of connecting our community and would love your input. If you are interested in sharing your insights, concerns and vision, please use call our office at 575.751.3138 or fill out our short contact form and we will get in touch with you.